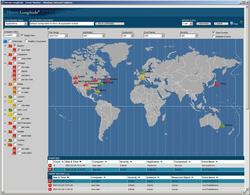 We are pleased to reaffirm our ongoing commitment to customers running on Microsoft platforms
Braintree, MA (PRWEB) March 25, 2008
Heroix, a leading provider of agentless application performance and network monitoring software, today announced it has attained Certified status in the Microsoft Partner Program, recognizing Heroix's expertise and impact in the technology marketplace. As a Certified partner, Heroix has demonstrated expertise with Microsoft technologies and proven its ability to meet customers' needs. Microsoft Certified Partners receive technology access, training and support, giving them a competitive advantage in the channel.
With a long track record of delivering successful solutions in the system management marketplace, Heroix has helped define the latest generation of agentless application performance, network monitoring and reporting software. Heroix Longitude takes an agentless approach to reporting, alerting, automated corrective action, and SLA and end user experience monitoring for applications, servers, IT infrastructure, networks, and SNMP devices.
Its streamlined architecture and Web-based user interface provide performance monitoring that is both broad and deep, without requiring any software installation on the monitored computers. Simple deployment, event consolidation and correlation, and automated corrective action help ensure optimal performance and maximum availability of business applications with minimal effort.
"We are pleased to reaffirm our ongoing commitment to customers running on Microsoft platforms," said Heroix President Rick Lane. "IT organizations of all sizes rely on Longitude application performance and network monitoring software to find problems before they affect business processes. The benefits provided through our Certified Partner status will allow us to continue to enhance our SLA monitoring, performance monitoring, network monitoring, and reporting software offerings so our customers can focus on strategic business objectives rather than constantly finding and fixing problems after they've occurred."
Heroix offers a 14-day free trial of Longitude.
About Heroix:
Heroix delivers award-winning software products that help organizations optimize the availability and performance of applications, databases, systems, and IT infrastructure running across multiple platforms. Today, with a presence in over 40 countries, Heroix has delivered performance management solutions to over 1,000 organizations worldwide, including Arrowsight, Fallon Clinic, Kaiser Permanente, Honeywell, Tembec, Motorola, Inc., and Young Broadcasting.
###