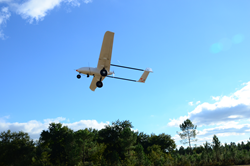 "Our rapid growth is a testament to our dominant position in the commercial drone space as well as our emergence as a leader in affordable custom solutions," said Ryan Johnston, CEO and co-founder of Applied Aeronautics.
AUSTIN, Texas (PRWEB) December 12, 2018
Applied Aeronautics, the affordable commercial drone provider, today announced tremendous company growth led by booming year-over-year top-line performance. Further, in 2018, Applied Aeronautics doubled its customer base, expanded its suite of proprietary technology, increased its employee count, and grew its facilities in Austin, Texas. This continued company momentum speaks to significant market opportunity and demand for the affordable fixed wing drones delivered by Applied Aeronautics. Earlier this year, the company also announced the appointment of Meghan Annand as its Chief Operating Officer. Meg brings her over 12 years of operational and management experience to Applied Aeronautics.
"Our rapid growth is a testament to our dominant position in the commercial drone space as well as our emergence as a leader in affordable custom solutions," said Ryan Johnston, CEO and co-founder of Applied Aeronautics. "Over the past year, we have invested in new technologies that augment our existing products, while also enabling us to tap into every channel of the commercial drone space. As a result, our flagship Albatross UAV has emerged as an essential commercial UAV platform."
"Applied Aeronautics has quickly become a trusted industry partner because of our dedication to customer success and an unwavering commitment to delivering reliable products at affordable prices," said Meg Annand, COO of Applied Aeronautics. "While our drones can already be found in over 50 countries, I'm looking forward to assisting with our further expansion into new territories."
About Applied Aeronautics
Applied Aeronautics is a US-based UAV manufacturer, specializing in the design and manufacturing of affordable, long-range composite drones. Applied Aeronautics' flagship product, The Albatross, is an electric fixed wing UAV designed for use in most industries, ranging from agriculture and research to disaster management and defense. This entirely customizable solution was engineered for accessibility, to meet a growing demand for a professional UAV that married robust capabilities with an affordable price point. For more information on Applied Aeronautics, please visit http://www.AppliedAeronautics.com