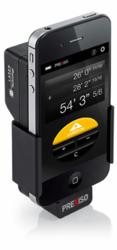 Just connect the iC4, launch the app, and simply measure!
Grand Rapids, MI (PRWEB) November 23, 2012
AppraisersLaser.com is excited to announce the brand new Prexiso iC4 is the first of it's kind. Insert an iPhone 4 or iPhone 4s into the iC4 connector, launch the Prexiso AG App (available on the iTunes App store for free) and have a professional and fast measuring solution.
The iC4 cradles the iPhone, connecting to the 30-pin connector on the bottom, yet does not interfere with the camera, volume, antenna or headphone port. Start measuring, adding, and subtracting measurements directly from the iOS app on the phone. Measuring range from 3.9in to 66ft and accurate to +/- 3mm, the iC4 is not just a laser pointer with an inaccurate app - it's an integrated solution including both laser distance meter and software.
At only $149, the Prexiso iC4 iPhone measuring laser connector is ideal for professional or personal use. It is also the perfect gift for gadget lovers, architects, real estate agents, or anybody who needs to measure distances. The Prexiso iC4 helps avoid inaccurate estimates and measuring mistakes. It can be used for much longer distances than a measuring tape by using a Swiss designed precise laser.
At just 4.2 x 2.24 x 1.38 inches and 5.3 oz with batteries, the iC4 is small enough so you can measure and access the touch screen with one hand. One pair of AAA batteries (included) can provide up to 3000 measurements. The unit is also backed by a 1 year warranty.
AppraisersLaser.com is a leading provider of laser distance measuring solutions for more than 6 years and is proud to be one of the select distributors in North America for this amazing product. If you would like more information, call our knowledgeable staff at 888-560-1744 or get more details at http://www.appraiserslaser.com/prexiso-ic4-iphone-laser.html