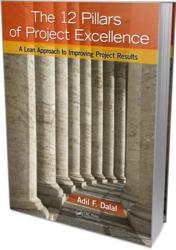 Things do not appreciate, only people do!
Austin, TX (PRWEB) September 30, 2012
A recently published Harris Interactive survey revealed that 73% of Americans consider themselves to be stressed at work. The high levels of anxiety have a direct impact on workplace productivity, and ultimately, a company's bottom line. Stress is estimated to cost U.S. companies more than $300 billion each year according to The World Health Organization. Pinnacle Process Solutions CEO, Adil Dalal asserts, "Things do not appreciate; only people do! Buildings and equipment can only provide a static structure; but only our employees can help define the dynamic culture needed for retaining and delighting customers in this ultra-competitive global playground". According to Dalal, who also serves as the Chair of Human Development & Leadership division of ASQ, companies should be doing more to reward the human side of their organizations. Tangible assets like buildings, machinery, software, and even products do not appreciate in value over time; rather it is the talent, vision, skills, leadership, knowledge, and creativity of employees that drive a company's results. Thus, Dalal asserts, "People should be considered as the prime appreciating assets in any organization". Some companies use this notion as a slogan, but only a few organizations truly believe it.
A conservative estimated cost of hiring and developing a new employee ranges from $30,000 - $70,000. "How would you treat something you just bought for $70,000?" asks Dalal. "Would you use it to a point that it falls apart or would you utilize it so you can get optimal return on your investment? The answer is obvious", says Dalal. A stressed workforce results in a toxic work environment which spills over into personal life, which generates new toxins within the work environment, resulting in a viscous cycle which prevents organizations from focusing on what is truly important – the customers, who are ultimately responsible for the survival and growth of the organization.
Dalal and his company Pinnacle Process Solutions have a unique philosophy for appreciating the human assets during upturns and downturns, which is laid out well in Dalal's book,The 12 Pillars of Project Excellence: A Lean Approach to Improving Project Results. According to the 12 Pillars book, in order to build the "roof of excellence" consisting of delighted customers, profitable business, and loyal employees; a strong "foundation" consisting of skills and talents of the employees needs to be in place and constantly strengthened by "appreciating these assets". A chronically stressed workforce puts the entire organizational structure at risk. What causes chronic stress? Apart from the obvious financial factor, some key non-financial contributors to stress are unclear requirements, poor or inadequate planning and lack of emphasis on understanding an individual's talents and skills. Another key contributor of stress among employees is the lack of control on their daily operations and in decision making. Organizations can use simple techniques like involving the employees in creative problem solving and in lean kaizen events where the employees feel that they have been in control and have made decisions impacting the future of the company. Challenging the employees to use their creativity to solve corporate problems, allows the corporation to save on capital expenditure, which can be invested back in the training and development of the appreciating assets – a win-win situation. Organizations which decide to retain their employees during downturn get benefits in excess 200% over those who decide to down-size. The reason is that people who are highly motivated, tap into the core of their creativity and achieve results beyond their wildest dreams – another win-win situation.
Dalal further asserts that, "In a vast majority of cases, the success or failure of any initiative will depend on the people who execute it rather than on any equipment, consultant, software, or other tools and techniques. People being the key common denominator for success, focusing on the "human assets" and "appreciating these assets" is the most intelligent action any supervisor, manager, leader or executive can take for long-term success of the organization. It is a simple, common sense solution which can help several organizations overcome current economic woes. But then, sadly, very few leaders believe in simplicity and common sense solutions these days, and the results are quite evident. For a better future, it is vital for leaders to get back to the basics and focus on strengthening the foundation of the organization by appreciating their human assets".