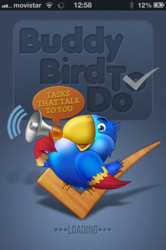 Cupertino, CA (PRWEB) November 27, 2012
Everyone from busy executives, to time-starved homemakers, to on-the-go students and everyone else who wants to make their daily life more efficient, productive and convenient, can now download the new app Buddy Bird ToDo, and benefit from the first and only talking to-do list app for iPhone and iPod touch.
Designed with a clean and easy-to-use interface and a choice of 19 beautiful background themes, Buddy Bird ToDo is an all-in-one organizer that reads aloud a user's to-do list in a very clear, natural voice.
The app can read all to-do tasks, tasks due today, tasks due soon, overdue tasks, recurring tasks, or tasks assigned to a user-specified list. All tasks can also be organized into tabs or lists and sorted via filters, which makes it ideal for at-a-glance operation, or when focusing on a certain project. Users can even direct their device to complete a task by making a call, sending an email, SMS, message, searching the web, and more. They can also synchronize tasks with iCloud and the popular online service Toodledo.com.
In addition, Buddy Bird ToDo keeps drivers safe and compliant with "hands-free" laws, since no interaction with the iPhone or iPod touch is required, and the app's text-to-speech functionality works even when the device isn't connected to the Internet.
Buddy Bird ToDo, the first and only talking to-do list app for iPhone and iPod touch, doesn't require users to sign up, create an account, or pay subscription fees. And during a special limited time introductory period, it's offered at 70% off via iTunes at https://itunes.apple.com/app/buddy-bird-todo/id558496524.
Additionally, Buddy Bird ToDo provides full support for iPhone 5, including full optimization for the larger 4-inch display.
For more information or media inquiries, contact Mark Johnson of appshout! on behalf of Matt-Bros Innovative Solutions at +1 408 757 0156 or press(at)appshout(dot)com.
Learn more at: http://www.buddybirdtodo.com
Find us on Facebook: http://www.facebook.com/BuddyBirdTodo
About Matt-Bros Innovative Solutions (MBIS)
Buddy Bird ToDo is driven by the passion and extensive experience of two dynamic brothers who are IT professionals with over 29 years of collective experience in the industry. Together they have a unique combination of technical, commercial and managerial skills which they have combined to create Matt-Bros Innovative Solutions (MBIS).
MBIS offer advanced mobile application development services across various platforms, including iOS and Android, with a vision to transform the latest technology and business trends into a constant value for their customers. Using their extensive experience in different facets of business and IT they understand the many challenges people individually and businesses as a whole face in the 21st century.
MBIS have assured to bring applications and solutions tailored to the specific demands of any individual who aspires to excel and be productive in whatever they do, allowing customers to benefit beyond their expectations.