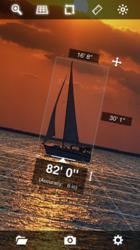 With EasyMeasure – Measure with your Camera! anyone can discover how far away a car or building is, how tall their friends are, or even to measure room interiors to ensure correctly fitting furniture
Cupertino, CA (PRWEB) March 20, 2013
Fans of Caramba App Development's innovative distance measuring app EasyMeasure– Measure with your Camera! can now head to the App Store and download the latest version 11 at no cost.
Acclaimed as "fun and easy to use" and an "awesome tool for field work in engineering" by satisfied users around the world, EasyMeasure – Measure with your Camera! lets users simply and instantly discover the distance between them and any object that appears through the camera lens on their iPhone or iPad. The app uses the height of the camera lens and its tilt angle to calculate the distance to the object. Users can also calibrate their device for even more accurate results. An in-app upgrade also adds functionality to measure the height or width of individual objects, ensuring literally any distance, space or item can be measured.
In addition to a handy lens slider that was brought back in the latest version 11, EasyMeasure – Measure with your Camera! features:

An intuitive and user friendly interface
An amazing 3D camera overlay grid
Bold Retina display graphics optimized for iPhone/iPad
The option to share results via email, Twitter or Facebook
The ability to take a picture of an image with its distance displayed
Support for either Metric or Imperial units
An innovative flashlight for taking measurements in the dark
Multi-language support: English, Dutch, Spanish, Portuguese, Italian and French
A recently updated layout designed by Dan Taylr
The ability to take "dynamic photos" by analyzing and adapting measurements after a photo is taken (available in upgraded version)
"With EasyMeasure – Measure with your Camera! anyone can discover how far away a car or building is, how tall their friends are, or even to measure room interiors to ensure correctly fitting furniture," commented Jaap van Kampen of Caramba App Development. "The possibilities are endless, and once people start using it, they'll wonder how they managed without it!"
Version 11 of the innovative no-cost distance measuring app EasyMeasure - Measure with your Camera! is available now from the App Store at https://itunes.apple.com/app/easymeasure-measure-your-camera!/id349530105.
A helpful demo video that clearly explains how to use the app is also available at http://youtu.be/L0uzLqwciUc. The video has been updated to feature localized subtitles.
For more information or media inquiries, contact Mark Johnson on behalf of Caramba App Development at +1 408 757 0156 or press(at)appshout(dot)com.
About Caramba App Development
Caramba App Development develops apps for the iPhone and iPad. The company focuses on innovative entertainment and utility apps, and currently has seven apps live in the Apple iTunes App Store.
Learn more at http://www.caramba-apps.com