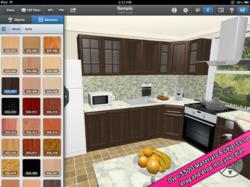 Cupertino, CA (PRWEB) December 19, 2012
Whether it's a new floor installation, kitchen renovation, or whole home redecoration, it can be difficult for both budding designers and professionals to really picture what the final design will look like. How will a designer know if the shade of wood floor selected will coordinate with new countertops? Will a couch look better in a different spot without having to go through the arduous process of moving it? Thankfully, now it only takes a few taps for anyone to plan interior design. Black Mana Studios is pleased to announce the launch of the most technologically advanced interior design app available on the App Store – Interior Design for iPad.
Interior Design for iPad is a user-friendly app that can take on any interior design project or create any floorplan quickly and easily. With little to no learning curve, any user could be designing a new interior in as little as 5 minutes.
From drawing floor plans in 2D to walking through them in vivid, stunning 3D. Users can drag and drop objects into the plan, remove walls, alter the shape of rooms or apply new wooden floors from a selection of over 50 real wood grains, all by simply tapping on the screen. In Addition, the app includes over 3300 objects and materials for free, so users can create highly detailed designs, quickly and easily.
Interior Design for iPad is one of the only apps in the world that supports render, giving users the ability to create an amazing final image including shadows and other special effects.
Once the user has completed a layout, it can be shared with friends, family, or colleagues by exporting it to email, to their device photo album, Dropbox, or a favorite social networking site.
Interior Design for iPad gives any iPad user the power to take a personally created design or layout ideas and bring them to life, all with a few taps on the iPad screen. Interior Design for iPad is available now in the iTunes App Store at: https://itunes.apple.com/app/interior-design-for-ipad/id541375152
About Black Mana Studios
Black Mana Studios LLC, creators of Interior Design for iPad, are an international presence with offices in the United States, Russia, and Israel. Their initial foray into professional mobile software was the first full-featured screenwriting application 'Screenplay,' which became the de-facto mobile screenwriting solution for thousands of movie and TV personnel. Since that time, Black Mana has created other groundbreaking apps including Home 3D, the world's first mobile three-dimensional interior design app. Founded in 2009, Black Mana Studios LLC is based in New York City.
Learn more: – http://www.blackmana.com
Interior Design for iPad – http://www.interior-design-ipad.com