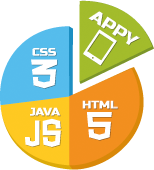 Appy Pie's App Builder makes everything simple to create and augment, whether you're an experienced coder or a small business entrepreneur
New York, NY (PRWEB) April 17, 2013
Appy Pie, the cloud-based mobile app development solution, is proud to announce its out-of-beta launch today after months of closed testing. The Appy Pie platform allow users to create fully functional and customized apps in a wide series of unique categories that range from mobile games and navigational tools, to e-book readers and business utilities on today's most popular operating systems.
The beta testing stage has already seen over 1,000 apps submitted to Appy Pie's marketplace, leading to approximately 750 published and available apps for instant download on a variety of mobile devices. With a team of coding specialists behind the scenes of the platform, Appy Pie ensures their straightforward approach will be a developer mandate to integrate apps within their own business models."
"Appy Pie saves users time, frustration and most importantly, money by allowing them to build apps with maximum functionality and minimal experience," says Abhinav Girdhar, CEO of Appy Pie. "We have done everything we can to take the headache out of what would normally be an extremely backbreaking science. Appy Pie's App Builder makes everything simple to create and augment, whether you're an experienced coder or a small business entrepreneur."
By using Appy Pie's App Builder Platform, users can access various app building tools, and begin the process of bringing their application to life through an easy, step-by-step set of instructions that guide consumers with interactive directions right on the screen. Once completed, users are able to upload their mobile creation onto Android, iTunes, and very soon, to Blackberry and Windows operating systems, allowing for much needed exposure, sharing, and even monetization upon approval.
The platform has already amassed more than 40 paid subscribers to their service, as well as a handful of re-sellers around the globe since beta testing began, that have re-purposed Appy Pie's API for their own white label purposes.
ABOUT Appy Pie Inc.,
Appy Pie is a cloud based Mobile App Builder that allows everyone to create an app. The platform allows anyone with limited or no technical knowledge to create basic mobile apps for iOS & Android-based mobile phones. There's nothing to download or install and no external programming required. Just drag and drop. Appy Pie is trademark of Appy Pie, Inc.