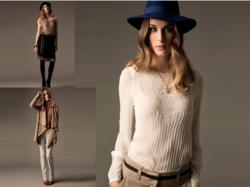 We are very excited to be offering these brands where every style is special & hand-picked. Most of the brands are first time introduced to the North American market.
Vaughan, ON (PRWEB) March 19, 2013
Online women's clothing, jewelry and accessories store, Apricot Collection, is introducing its new website. The new online store, features unique local Canadian brands such as Tetiana K Clothing, Pink Martini, Eric Alexandre & Papillon, as well as European exclusive lines like Oxmo, Nu by staff-woman, Cream and Nougat London.
Apricot Collection's mission is to introduce interesting new lines to the North American market by offering unique pieces and various styles. Its goal is to reach all women out there and to enable each and every one of them to find her special signature item. Whether it's classic-chic, feminine, bohemian or vintage. Apricot Collection offers them all, and as time progresses, the company adds more brands and styles.
Like the brands that tend to be exclusive and cannot be found at your typical department store, the online store, which is "boutique-like", offers various features: from live chat, fashion tips and guest posts, to a detailed description on each style including photos showing it from a few angles, all in order to allow the customers to make a smart well-informed purchase.
Apricot Collection also offers ongoing sales and promotions. Currently you can purchase winter items in up to 60% off as well as get free shipping and returns in Canada. Signing up to the company's newsletter would also allow customers to enter their chance to win a $25 gift card on a weekly basis. Sizes are limited, so customers better shop early for best selection.
About Apricot Collection:
Apricot Collection is a Canadian based online company which came to life after Michelle Herscu, founder and owner, decided to combine her two biggest loves - business and fashion. She always felt like the market wasn't offering enough variety and online stores usually targeted one audience. That's why today she's always looking for new brands to add to the collection and each piece represents a different style for different occasions. Another element that's important to her is to ensure quality is never compromised.