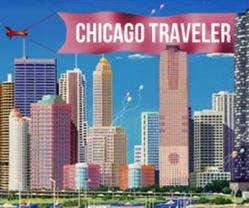 Chicago, Illinois (PRWEB) March 29, 2013
April is one of the best times to visit Chicago. Almost everything in Chicago is opening and starting back up after a winter of biting winds and freezing temperatures. Temperatures in Chicago in April usually range from the high 50s to the low 70s, and the best things to do in Chicago this April include more sightseeing and outdoor sports than the months before, as well as some great shows, concerts and more! ChicagoTraveler.com has put together a list of all the best things to do in Chicago in April 2013.
Best Chicago Tours this April
April is a wonderful time of year to tour Chicago. The crowds are not nearly as dense as they will be in a few months, but the temperatures are starting to rise and on a sunny day, taking a tour of Chicago is probably one of the best things to do on vacation. The boat tours in Chicago are a great option this time of year, as they'll turn up the heat if things get chilly. Check out the brand new renovations at the beautiful Odyssey of Chicago Cruise, which is scheduled to be completed on April 1st and features a modern and chic look with an upgraded drink list that will make every guest feel like A-list VIPs on their beautiful guided tour of Chicago. Those looking for a little less frill and a little more thrill should opt for the Seadog of Chicago tours. These fast boats give you the best of both worlds, an exciting ride with the best views in the city. Traveling with your pet? Bring them along, because dogs ride free if there's space with an additional 10% off the pet's owner's ticket.
Travelers in Chicago on a warm day this April will also enjoy a bike tour of Chicago. These weren't so desirable in the previous months, but when the snow is melting and the temperatures rise, this is a great way to see Chicago! Bike tours come in all forms. Sample the best dishes of Chicago on one of the biking food tours, like Bobby's Bikes, Bites & Brews tour or take the city by night on the City Lights by Night tour. There's the Lakefront tours for those that enjoy Chicago's beautiful scenery and so many other options to get any kind of sightseeing done on this trip. Of course, there's also the option to rent a bike and explore the city without a guide too!
Baseball in Chicago
The Chicago Cubs Home Opener and the Chicago White Sox Home Opener games are scheduled for April 1, 2013. Everyone loves baseball season in Chicago, and this season is off to a great start with lots of exciting games is month. The Cubs are up against the Brewers, the Giants, the Rangers and those San Diego Padres in April. The White Sox home games include matchups against the Kansas City Royals, Seattle Mariners, Minnesota Twins, Tampa Bay Rays and the Cleveland Indians. Get Chicago sports tickets to any of these games, to see the Blackhawks or Chicago Bulls tickets, who just recently ended the Miami Heat's 27-game winning streak! This is a great time for sports in Chicago!
Concerts in Chicago April 2013
As usual, there's a great lineup of bands and performers coming for a night or two this April. Check out all of the great nightlife in Chicago this month, which includes the bars, the new shows playing around town and all of the concerts in Chicago this April. On 4/3 Mika will be at Lincoln Hall. Maroon 5, Neon Tree & Owl City will be at Allstate Arena on April 6th. On April 12th, Widespread Panic is performing at the UIC Pavilion, Chris Tucker will be at The Chicago Theatre and Pat Green will be at Joe's Bar on Weed St. See Andy Grammer the next night (4/13) at Logan Square Auditorium and Fleetwood Mac, also on April 13th at United Center. On April 16th and 17th, the Black Crowes will be at Vic Theatre, so fans get double the chance to see them while they're here. On April 26th Umphrey's McGee is playing a concert at Park West and The Red Jumpsuit Apparatus will be at Bottom Lounge. Also this month the Chicago International Movies and Music Festival will be held from April 18-21, 2013, as the chance to see entertaining films, concerts, VJ/DJ sets and more.
There's a lot to do in Chicago this month, whether it's for just a few hours of entertainment on a business trip, a day of fun on a weekend getaway or check out all of the great things to do in Chicago with kids on a family vacation. The hotels in Chicago are offering great discounts and awesome packages this month since it's not full-blown tourist season in Chicago yet, so take advantage of the short lines at attractions, the great Chicago hotel deals and all of the best events in the Windy City this April!
About ChicagoTraveler.com:
Chicago is one of the top vacation destinations in America famous for their annual events, popular foods, architecture and top sports teams. ChicagoTraveler.com guides travelers to all the best things to do, top places to eat and deals on the best places in Chicago to stay.