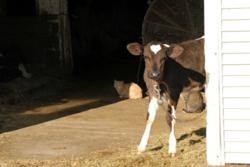 Maple season in Vermont is sweetened with festivities that celebrate a variety of Vermont's time-honored traditions.
Montpelier, VT (PRWEB) March 20, 2013
In April, Vermont transforms with a surge of landscape and cultural dynamicity. The state is bustling with a feast for the senses - as buds and birds return to the landscape. Here's just a peek at some neat events. For the comprehensive listing, visit the Travel Planner of http://www.VermontVacation.com.
Sky Blue Boys
April 5, Randolph
The Sky Blue Boys revive the tradition of brother duets, the predominant format in country music in the '30s and '40s. They follow the example of old-time duos like The Blue Sky Boys, The Monroe Brothers and the Louvin Brothers. Chandler Upper Gallery, Chandler-arts.org
Vermont History Museum Art Walk
April 5, Montpelier
Stop by the Vermont History Museum during First Friday Art Walk. View the award-winning exhibit "Freedom and Unity," a fascinating chronicle of Vermont's history. Vermonthistory.org
The Glade-iator and Winter Brewers Festival
April 6, Mount Snow
The Glade-iator competition is a mogul skiing contest on the soft bumps of the Ripcord trail. Ski Vermont Specialty food day offers tasty treats and the brewfest is all about beer and live music. http://www.Mountsnow.com
Sophie Shao and Friends
April 6, Middlebury
Cellist Sophie Shao's impromptu chamber ensembles are always brimming with passion and talent, but this configuration also includes cherished Middlebury favorites. Shao is joined by pianist Pei-Yao Wang and violist Roger Tapping. Mahaney Center for the Arts Middlebury.edu
Support Women Artists Now, SWAN Day 2013
April 6, Newport
Women of the Memphremagog Arts Collaborative Center gather to showcase their work through demonstrations. This event is open to all women artists and also celebrates MAC's historic exhibit, "Women on the Move," running the entire month of April. Memphremagogartscollaborative.com
Clay for Families
April 6, Woodstock
Participants will be guided through a special topic chosen specifically for the ceramic studio day. Everyone will make something to be kiln fired, glazed and picked up later. Please RSVP. Artistree Community Arts Center, Artistreevt.org
Bud Light Bear Mountain Mogul Challenge
April 6 – 7, Killington
The competition heats as 200 amateur bumpers take to the slopes of Outer Limits trail to battle for top honors. The top 32 men and 16 women will return on Sunday to compete in a head-to-head competition. Killington.com
Southern Vermont Home and Garden Show
April 6 – 7, Ludlow
30 vendors will show and sell their wares. You're welcome to participate in seminars on composting, pond displays, flower arranging, bee keeping and hydroponics. http://www.yourplaceinvermont.com
BMC Faculty Recital: Dolce Conforte: Sweet Comfort
April 7, Brattleboro
The Brattleboro Music Center presents duets of Bach, Britten, Faure, Dvorak, Mercadante and Tchaikovsky featuring Music School Faculty members Margery McCrum, soprano, Jennifer Carol Hansen, mezzo soprano, and Hugh Keelan, piano. Centre Congregational Church, Bmcvt.org
Lyric Theatre Company presents Oliver! The Musical
April 11 – 14, Burlington
Food (glorious food) for thought! Lyric Theatre Company presents Oliver! Characters from Charles Dickens' classic novel are brought to life in this lively production. Flynn MainStage, http://www.Flynntix.org
Julie Fowlis
April 12, Burlington
Julie Fowlis has been a proud standard bearer for Gaelic music and culture over the course of a solo career which has spanned three highly-acclaimed studio albums. She's truly one of the world's most esteemed Gaelic vocalists. UVM Recital Hall, Uvm.edu/laneseries
4th Annual Monte Carlo Casino and Texas Hold'em Tournament
April 13, Westfield
Friendly, Vegas-style tournament with Black Jack, Roulette, Craps and multiple Texas Hold'em tables. Doors open 7:00p.m. Come play, plus there are door prizes, 50/50 raffle and more. Degre Auction House, $5 Entry, BYOB - 21 plus. Jayvt.com
Spring Time Tincture Making
April 15, Montpelier
Learn how to make herbal tincture with local, abundant spring time plants. Learn the method of tincture making along with information about harvest and use of these plants. Participants will take home tinctures. Vermont Center for Integrative Herbalism, Vtherbcenter.org
Speaking of Aging: Jane Brody
April 16, Westminster
Westminster Cares 25th Anniversary Speaker Series presents Jane E. Brody, personal health columnist for The New York Times and writer on science and nutrition, to speak on aging. Westminstercares.org
Chuck Brodsky in Concert
April 19, Bennington
Chuck Brodsky is a songwriter who pokes fun at political corruption, road rage and mischief as a kid. He sings about unsung heroes and forgotten but incredible people… Meetinghouse Cafe of
Unitarian Universalist Fellowship, Uubennington.org
Pond Skimming at Killington
April 20, Killington
Competitors will be judged on skim, costume, splash and applause. Whether you skim or watch, make sure to catch this wacky event! http://www.killington.com
April 21, North Bennington
Bennington Baroque presents chamber music on period instruments. Performers include Mathieu Langlois, Kevin Bushee, Alice Robbins, and Sandra Mangsen. Works by Telemann, Marais and Rameau. Park-McCullough House, Benningtonbaroque.com
Five Wild VT Medicinals: A Chinese Medicine Perspective
April 24 Montpelier
Discover some of the lesser known but medicinally important plants of Vermont. Grounded in the deep reaching diagnostic and treatment traditions of Chinese Medicine, learn about turkey tail, reishi, bloodroot, etc. Vermont Center for Integrative Herbalism http://www.vtherbcenter.org
Good People: A Play
April 24 - May 12, Burlington
Why does opportunity knock for some, but not others? A thought-provoking play about two teenage sweethearts who reconnect after 30 years, written by David Lindsay-Abaire. FlynnSpace, Vtstage.org
Lila Downs
April 26, Burlington
Lila Downs is an extraordinary artist, known for her deep, expressive voice which was featured on the soundtrack of the movie Frida. Her music reflects a peripatetic life; she performs traditional Mexican folk songs, Cumbia, richly textured pop and more. Flynn Center, Uvm.edu/laneseries
Blanche Moyse Chorale: Mass in B Minor
April 26-27, Bellows Falls
The Blanche Moyse Chorale presents J.S. Bach BWV 232 B Minor Mass with the Strathmere Festival Orchestra under the direction of Mary Westbrook-Geha conductor. Bellows Falls Opera House, Bmcvt.org
The Vermont Maple Festival
April 26 - 28, St. Albans
Tap into all things maple at the 47th Vermont Maple Festival! Exhibits, sugarhouse tours, entertainment stage, shows (crafts, specialty foods, youth talent, antique, and fiddlers') carnival, pancake breakfasts, sap run road race and cooking demos. http://www.VTMapleFestival.org
Borromeo String Quartet and Flutist Karen Kevra
April 27, Montpelier
Capital City Concerts presents the renowned Borromeo String Quartet and flutist Karen Kevra in string quartets of Beethoven and the world premiere of commission "Tayta's Journey" for string quartet and flute by Mohammed Fairouz. Unitarian Church of Montpelier, Capitalcityconcerts.org
Paula Poundstone
April 27, Randolph
Armed with nothing but a stool, a microphone and a can of Diet Pepsi, Paula Poundstone's ability to create humor on the spot has become the stuff of legend. Little wonder people leave Paula's shows complaining that their cheeks hurt from laughter. Chandler Music Hall, Paulapoundstone.com
Opening Day at Billings Farm and Museum
April 27, Woodstock
Visitors can try their hand at horse-drawn plowing. Horse-drawn wagon rides, ice cream and hands-on farm programs. Billings Farm and Museum, Billingsfarm.org
Wild and Woolly Weekend!
April 27 - 28, Proctorsville
Local fiber-related vendors sell and demo yarns, roving, hand-made fiber tools, spinning wheels, drop spindle and more. Fondle one-of-a-kind hand-dyed yarns and rovings for knit, crochet or weaving. Complimentary demos and door prizes! Sign-up in advance for fun classes. Castle Hill Resort and Spa Vermont, sixlooseladies.com