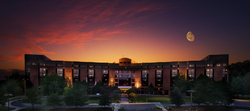 Profitvue's ad hoc reporting features enable us to look at all our properties side-by-side to make performance-based business decisions without rekeying data.
Pittsburgh, PA (PRWEB) February 23, 2011
Aptech Computer Systems, Inc., the leading provider of hospitality software for business intelligence and enterprise financial accounting, today announced that SKY Hospitality and Widewaters Hotels, LLC selected Aptech's Profitvue® enterprise back office solution to provide accounting processes across multiple-branded properties. SKY Hospitality will also implement the Aptech Execuvue® business intelligence system. Click here to learn more about Aptech's accounting and business intelligence solutions.
Profitvue and Execuvue selected for performance-based decision making
SKY Hospitality selected Profitvue for its streamlined reporting and Execuvue® for its analytics, according to Janet Bush, vice president of operations. "We wanted a hotel-specific accounting system to grow our business and enhance our resource planning," she said. "Ad hoc reporting features enable us to look at all our properties side-by-side to make performance-based business decisions without rekeying data."
SKY assessed several performance management systems to identify a financial system that best supported the company's expanding needs. "We felt the Profitvue solution and Aptech's support and service team were superior to the other systems we evaluated," said Bush. "SKY will have Profitvue and Execuvue fully deployed in nine Microtel Hotels by the end of the first quarter 2011. We will interface Profitvue with our property management systems for a seamless data exchange and greater efficiency."
Aptech is the most experienced hotel accounting systems company
Widewaters Hotels deployed Profitvue at two managed properties after the system passed its professional evaluation process. "We hired industry consultants to assess the best hotel accounting technology available," said COO Robert Arigo. "Our evaluation showed Aptech was the most experienced hotel accounting company, its systems were solid, and that it provided excellent professional service."
After owning and developing properties for Hilton, Marriott, and Starwood, Widewaters recently launched its own management company. "Aptech has a track record of supporting hundreds of hotels and multi-property groups," said Arigo. "They also have experience with the largest chain flag operations. As we expand our management organization, we can rely on Aptech to provide systems that support our growth and are easy to use." Profitvue handles single hotel operations, and multi-property and multi-company accounting.
"SKY Hospitality and Widewaters are solid companies and industry success stories," said Aptech Vice President Cam Troutman. "Aptech is committed to developing and supporting systems that expand with them to support their future growth."
Profitvue is available as a standalone application or as a thin-client Internet-enabled ASP hospitality back office solution. The Profitvue ASP hotel software solution lowers system expenses because Aptech hosts the application at its secure data center and manages responsibility for data backups and system maintenance. Hotel operators require only a PC and Internet connection to manage all their property financials, corporate accounting, and reporting needs.
Aptech Computer Systems
Aptech Computer Systems, Inc., based in Pittsburgh, Pennsylvania, leads the hospitality industry in leveraging change by valuing human relationships and applying technology to solve business problems for people. Incorporated in 1970, Aptech is a financial and operations technology solutions and service company whose products include state-of-the-art back office, business intelligence, and enterprise planning products: Profitvue®, Execuvue®, and Webvue. More than 2,500 properties, including very large chains, multiple-property management companies, and single-site hotels use Aptech solutions to understand their financial and operational data. Execuvue and Profitvue are registered trademarks of Aptech Computer Systems, Inc. All other trademarks are owned by their respective holders.
###