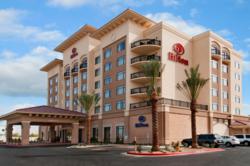 It was clear to us we needed more than a good business intelligence system; we had to have a vendor with extensive experience with all our chains and that knew how to read a hotel's financials.
(PRWEB) June 06, 2012
Dallas-based Texas Western Hospitality operates 53 Marriott and Hilton full-service and select-service properties in seven states. It has a strong corporate culture of honoring its people, and the executive team knows how to work smart. That is why Texas Western began evaluating a cloud-based business intelligence system to take a load off its accounting staff by automating its property data gathering and reporting. The effort paid off – and produced some surprising results.
"Our company has grown over its 30 years, but until recently we still got most of our property data via email and faxes and were hand coding Excel spreadsheet reports for managers and owners. With 50+ properties it was time to automate our processes," said Jim Smith, senior vice president – operations for Texas Western Hospitality (TW). The company's hotel software requirements included automatic downloading of property performance metrics from its Hilton OnQ and Marriott PMSes daily, as well as merging the data with labor numbers, Smith Travel Research output, and a variety of other information from TW's corporate accounting system.
"We had many different data sources, including Marriott's two front office systems and Hilton's OnQ, and we wanted data from all systems updated daily in one place where we could access it for analysis and reporting," Smith said. "It was clear to us we needed more than a good business intelligence system; we had to have a vendor with extensive experience with all our chains and that knew how to read a hotel's financials." Texas Western selected Aptech Computer Systems, Inc. and implemented its Execuvue® hospitality Business Intelligence (BI) solution. Aptech built TW's data warehouse and worked with Marriott and Hilton to identify, gather the data, and create the report formats TW needed for better performance management. "The bottom line is that the reports and spreadsheets that we used to build by hand are now done by Execuvue. This is a huge savings," said Smith.
Now, Texas Western's BI system automatically collects and combines data from its 53 properties with ten flags, performs performance analysis and multi-property roll ups and comparisons, generates daily revenue and flash reports, and emails property specific reports to the appropriate managers. "Our daily reports alone include rate, occupancy, RevPAR, and many other items. With the BI doing the work, our staff spends more time on analysis that increases property performance, not building spreadsheets."
Aptech's hosting service frees Texas Western from system responsibility
Texas Western's team wanted a central, globally-accessed business intelligence data warehouse; but it had not considered where its system would be located. "We are a hotel company, not a tech shop, so we never thought about the details of a cloud-based system," Smith said. "Aptech offered to host our system at its secure data center in Pittsburgh and this has taken all system responsibility off our hands. They handle our data security, backups, and system maintenance so we can run our hotel company."
Mobile optimized BI reports can be accessed anywhere with handhelds or iPads
"We use Execuvue to look at the data we always had, but now we sort it by flexible criteria that allow us to see individual data points much faster," Smith explained. "My data needs are different every day. It might be specific costs like labor or utilities, or STR comparisons, or other specific line items and expenses. We can easily pull our information into actionable formats that are clearly understandable. Our BI reports are mobile optimized so our executives can monitor performance anywhere." Smith added that some TW managers like to review reports on their iPads and he can track operations from his iPhone as needed.
Choosing which tech vendor would take charge of its company data was a major decision. "Because we have longstanding relationships with both Marriott and Hilton, it was very important to us that any BI provider we selected understand the industry and have a good relationship with our brands," Smith said. "Execuvue already had interfaces with OnQ, Marriott's PMS and its FOSSE systems and Aptech's team understands hotel operations. If I can articulate what I want, Aptech's team can deliver it. Their experience makes our job much easier."
About Texas Western Hospitality
Texas Western Hospitality operates more than 50 select service, extended stay and full-service hotels under the trusted Hilton and Marriott brand names in Arizona, North and South Carolina, and throughout Texas. And it is expanding aggressively. Its parent company, Western International, also has a number of properties under development. Its investment partners, associates and other stakeholders attest to the company's tenacity that has yielded some pretty remarkable results over the years. But what might surprise you is that Texas Western attributes its aggressive success to a strong family culture. The company believes overtime should never get in the way of family time. So its people work smarter instead of longer. Which is something its employees appreciate. When you love where you work, it shows. Which is something its guests appreciate.
Aptech Computer Systems
Aptech Computer Systems, Inc., based in Pittsburgh, Pennsylvania, leads the hospitality industry in leveraging change by valuing human relationships and applying technology to solve business problems for people. Incorporated in 1970, Aptech is a financial and operations technology solutions and service company whose products include state-of-the-art back office, business intelligence and enterprise planning products: Profitvue®, Execuvue®, Targetvue, and Webvue®. Over 2,500 properties, including very large chains, multiple-property management companies, and single-site hotels use Aptech solutions to understand their financial and operational data. Execuvue and Profitvue are registered trademarks of Aptech Computer Systems, Inc. All other trademarks are owned by their respective holders.