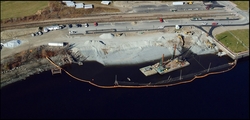 The use of AquaBlok materials helps to facilitate the function of the design.
Toledo, OH (PRWEB) March 17, 2010
AquaBlok, Ltd., a manufacturer of innovative clay-based composite materials, is pleased to congratulate RMT, Inc. (RMT) on its recognition with a 2009 Business Achievement Award from Environmental Business Journal (EBJ). The award is based on RMT's full-scale installation of a NAPL Trapping Cap (patent pending), which incorporates AquaBlok materials to permanently control tar migration from sediment by redirecting migrating tar to a controlled accumulation area, where the tar is trapped while the gas is vented to the atmosphere.
EBJ's Technology Merit Award for Remediation was earned for RMT's development of a new technology to address the ongoing human health and environmental risks from sediment contaminated by manufactured gas plants (MGPs)--a problem that has been misunderstood and difficult to remedy in scores of water bodies.
"This system eliminates exposure to human and ecological receptors of tar; vastly reduces human health risks; reduces costs by creating a targeted remediation area; and alleviates short- and long-term risk via permanent migration control, and the use of AquaBlok materials helps to facilitate the function of the design," explains Eugene McLinn, RMT's Senior Client Executive for MGP Programs.
RMT designed and built a full-scale application of the NAPL Trapping Cap remedy--the first of its kind--on the Penobscot River in Maine, a site that posed extreme engineering and construction challenges. AquaBlok supported RMT with on-site production and supply of materials.
About AquaBlok
AquaBlok, Ltd. is a manufacturer of composite materials utilizing its patented coating and amendment approach. The company has a long history in the environmental industry and a range of products utilized in sediment remediation technologies. AquaBlok utilizes its delivery system in a wide range of products. AquaBlok is a licensee of Halliburton's Bariod Division for the BARACLEAR® algae treatment product. Visit AquaBlok at http://www.aquablokinfo.com.
About RMT
RMT creates energy and environmental solutions that balance our clients' business and sustainability goals. Headquartered in Madison, Wisconsin, the company has over 900 employees located in offices throughout the US. RMT has provided construction, engineering, design, and development services for over 3,800 MW of renewable energy across the US. RMT is a unit of Alliant Energy Corporation (NYSE: LNT), an energy holding company. Visit http://www.rmtinc.com.
###