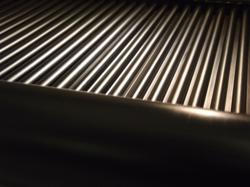 Lakewood, NJ (PRWEB) March 12, 2013
Aquatherm Industries, Inc. announced today it has set a world record in solar thermal efficiency with its newest flagship collector, Ultrasun. The collector was tested at TÜV Rheinland PTL in Tempe, Arizona to ISO Standard 9806 and certified by IAPMO R&T (International Association of Plumbing & Mechanical Officials).
Having achieved a performance rating of over 92% on the intercept efficiency curve, the Ultrasun Collector sets a world record in solar thermal collector efficiency. IAPMO testing protocol results in three distinct performance rating categories, representing several climate variables in order to most accurately model real-world performance. Of the three, Category B represents a temperature differential of 9 degrees F (example: 76 degree F air temperature, 85 degree F pool temperature), and is widely considered "normal pool heating conditions." Under Category B, on a 1,500 BTU ("Mildly Cloudy") day, Aquatherm's Ultrasun Collector is rated at 1,000 BTUs per square foot, per day, the highest of any unglazed pool heating collector testing under ISO 9806.
Dramatically different from any other solar thermal collector, the Ultrasun product has been certified to NSF/ANSI Standard 50 and awarded three U.S. and International Patents. A glass-reinforced, insert-molded header design provides unprecedented strength and durability at the riser-tube connection, improving system performance and lifespan. Inside the header, a permanently embedded "stem-block" gives the panel precise, direct-metered flow, resulting in maximum heat transfer (even when using a variable-speed pump). This same patented technology is shared in two of Aquatherm's otherproducts, "Sunlite" and "Ecolite," which hit a milestone last year as the manufacturer surpassed 25 million square feet of collector area for those products.
When asked why IAPMO was chosen to certify the performance of the Ultrasun collector Aquatherm's President, Dave Sizelove stated that "We chose the IAPMO certification program because of our long history with them and their exceptional IAPMO customer service." He added, "One company has had a virtual monopoly on national collector performance certification for over 30 years and IAPMO has now given manufacturers a choice."
Sizelove also credits IAPMO and their quality control procedures, which Aquatherm fully adopted in 2007, eventually leading to Aquatherm becoming an ISO 9001:2008 Registered Company.
Les Nelson, Director of Solar Heating and Cooling Programs at IAPMO stated, "With the demand for solar certification skyrocketing once again amidst the global push for environmental sustainability, IAPMO R&T remains a manufacturer's best ally in showing compliance to the required standards in the United States, Canada and now internationally."
About Aquatherm
Aquatherm Industries is the largest manufacturer of solar pool heating systems in the United States; the only U.S. manufacturer of NSF listed solar pool heaters, and the only U.S. solar collector manufacturer to achieve the ISO 9001:2008 quality standard. Aquatherm manufactures several of the industry's leading brands of solar pool heating collectors, including the Solar Industries, Ecosun and Ultrasun solar pool heating collectors.
Aquatherm's entire manufacturing process takes place at its 50,000-square foot technology center in Lakewood, NJ - the most modern facility of its kind in the world. For more information on Aquatherm Industries, its products or its dealer network, contact Molly Friar, Aquatherm's Sales & Marketing Manager at 1-800-535-6307, extension 226.