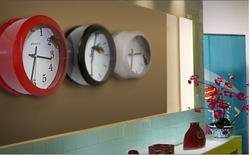 Watching time has never been more fun. The AquaClock brings time to life, literally.
San Jose, CA (PRWEB) August 2, 2010
Following the success of its award-winning wall mounted aquariums, Aquavista Enterprise Inc. introduces its newest invention and concept for keeping time and fish ~ the patented AquaClock™ Series—the world's first clock aquariums. Or as some people call it, the world's first aquariums that are clocks. Anyway you look at it, the AquaClock™ is a designer clock that tells time and is also a happy home for live swimming fish.
Researchers say that watching swimming fish relieves stress and calms the mind. The AquaClock™ brings time to life by making timekeeping fun and stylish while providing more of a reason for people to 'keep track of time." Now instead of getting worried as every minute passes on the clock, people can tell time while enjoying the serenity of watching a beautiful fish swim in its new home.
Aquavista's AquaClock™ Series is the ideal home for betta fish as they only need to be fed 3-4 times a week. With removable lids on top of each clock, all one has to do is add water, fish, and occasionally feed them when necessary. The AquaClock™ not only replaces a normal quartz clock, but with the style and quality of Aquavista, wall mounted Betta fish bowls are a thing of the past.
"We incorporated style and practicality into the design of the AquaClock™," explains Scott Yen of Aquavista Enterprise, Inc. "It's a good home for Betta fish who prefer smaller environments, and it's also relaxing for people to watch the fish swimming."
Aquavista's AquaClock™ Series continues the company's tradition of providing aquariums that are easy to set up while also making it easier to care for the fish. Constructed of high quality acrylic, the world's first clock aquariums come available in two unique designs that are sure capture people's attention.
The AquaClock™ Wall Series is a colorful round clock that features a clean, numeral-free face with a standout red second hand. The AquaClock™ Wall utilizes a highly accurate quartz movement that is designed to replace any traditional wall clock. Available in black, white, or red, the AquaClock™ Wall only weighs 4 pounds when it is filled with water, so it is safe and easy to hang on any wall. The AquaClock™ Wall measures 10" in diameter and 4" thick. Prices start at $69.99.
The AquaClock™ Skeleton Series is a classic table clock that incorporates the intricate movements of exposed chrome gears with a classy Roman numeral display to provide the luxurious look of traditional clock. If you watch closely, you can see the polished metal gears in action with the fish swimming safely in front. Its striking design makes the timepiece a fantastic centerpiece for any home mantle or office. The AquaClock™ Skeleton measures 8.5" high x 6" wide x 4" in diameter. At $99.99, the AquaClock™ Skeleton Series of products are among the most affordable and stylish skeleton clocks available.
"People look at their clocks and watches all the time, but that's boring," said Stephen Yen of Aquavista. "With the AquaClock™, we wanted to bring time to life."
With its sleek and decorative design, the classic appeal of the AquaClock™ is anything but boring. Whether it's sitting at the desk of an established CEO or on a wall in a child's bedroom, the AquaClock™ will not only spark conversation, but it will make sure people manage their days better as well. After all, it's not just an aquarium, and it's not just a clock.. It's the world's first clock aquarium.
Both the AquaClock™ Wall and Skeleton Series require an AA battery and are available for purchase at http://www.aquavistainc.com and select retail partners.
AquaClock™ Product Highlights

Easy Set Up: Just add water and fish
Easy Care: Betta fish need to be fed only 2-3 times per week; Easy water changes
Space Saving: Less than 4 inches thick. Save floor or counter space
High Quality Manufacturing: High quality acrylic with advanced quartz technology
Unique Conversation Piece: Multiple patents received and pending, the AquaClock is the world's only clock that is a fish tank; Perfect for any room
About Aquavista Enterprise:
Aquavista Enterprise, Inc. provides patented, award-winning aquariums that blend the serenity of live, tropical fish with the sophistication and beauty of art. Aquavista's innovation has created a new category of home décor and pet products called "Living Art" with its award-winning wall and tabletop aquariums. All Aquavista products are designed to follow its three standards of quality: (1) a healthy home for fish, (2) an aesthetic environment that is space saving, and (3) a low maintenance product that is easy for its owner.
For more information about Aquavista and its products, visit http://www.aquavistainc.com or call 408-453-4151.
###