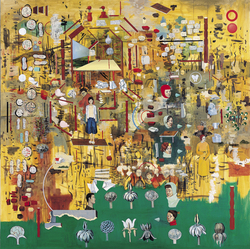 a visual language that exists in a completely different dimension than that of letters or words.
New York (Vocus) March 4, 2009
A new suite of paintings by Korean artist Suejin Chung will be on view at Arario Gallery New York, March 6-April 30, 2009. A reception for the artist will be held at the gallery on Thursday, March 5 from 6pm to 9pm.
Chung takes an analytical approach to painting that has been summarized as "a visual language that exists in a completely different dimension than that of letters or words." In multi-layered and color saturated canvases she depicts strange environments filled with people, individual body parts, shapes, symbols, and foodstuffs. Though her paintings appear to result from free association, they are mathematically and theoretically complex compositions of both the figurative and abstract, interior and exterior spaces. Chung suggests that to understand painting is to understand the multi-dimensionality of human consciousness. "Therefore," she writes, "you do not need to ask what [a] painting means anymore."
The painting pictured above, Crag (2008), was included in the recent exhibition Metamorphoses: Korean Trajectories at Éspace Louis Vuitton in Paris. This piece exemplifies Chung's style of painting and simultaneous attention to disorder and structure. Her newest works, which have never before been shown to the public, comprise Arario Gallery New York's exhibition. The paintings range from crowded compositions like Crag, in which human heads and organs; artichokes; building rods; paper airplanes; and other fragments swarm the canvas; to surreal mountainous landscapes; and portraits of a lone woman wearing a kerchief on her head, a recurring motif in Chung's work.
Born in 1969, Suejin Chung lives and works in Seoul, Korea. She received her MFA from the School of the Art Institute of Chicago (1995), and her BFA from Hong IK University in Korea (1992). Her work has been shown at Peres Projects, Berlin; Union Gallery, London; the National Museum of Contemporary Art, Korea; the Seoul Metropolitan Museum of Art; and the Youngeun Museum of Contemporary Art in Gawanju.
PUBLIC TALK
The artist will lead a walk-through of her exhibition on Saturday, March 7 at 4pm.
PUBLICATION
The catalogue produced for Chung's exhibition in Korea (2006) will be available for purchase at the gallery. The publication features essays by Arario Gallery Seoul and Cheonan Director, Juhl L. Lee, and the artist. Quantities are limited. Call for more information.
ABOUT ARARIO GALLERY NEW YORK
Founded by businessman and collector Ci Kim in 1989, Arario Gallery is a worldwide leader in the exhibition of Asian art by both established and emerging talents. Arario Gallery New York is the fourth expansion of the gallery, which also operates spaces in Cheonan and Seoul, Korea and Beijing, China. First established with the goal to educate the Korean public about its rapidly developing contemporary art scene, the gallery's mission has evolved with its expansion: Arario now seeks to cultivate an international dialogue between the East and West about cutting-edge contemporary art. Designed by acclaimed architect David Adjaye, Arario Gallery New York is among the largest contemporary galleries in the Chelsea district of New York City. Gallery hours are Tuesday-Saturday 10-6pm and by appointment. For more information, visit the website at http://www.ararionewyork.com.
UPCOMING EXHIBITIONS & FAIRS
The Armory Show, Pier 94, Booth 1510, March 5 - 8, 2009
Showing recent sculptures by contemporary Indian artist Tallur L.N; and a large-scale installation by T.V. Santhosh presented in collaboration with The Guild Art Gallery, Mumbai.
Hyungkoo Kang, May 2009
Hong Kong International Art Fair, Hong Kong, May 14-17, 2009
CONTACT
Nicole J. Caruth
Communications Director
212-206-2760
###