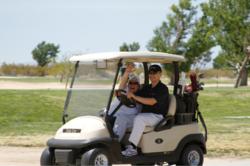 'This tournament recognizes our customer, our sponsors, and our partnership with the Antelope Valley community as well as the contractor personnel who work at NASA Dryden Flight Research Center,' said Leigh Ann Szymczak, RF&ESS Program Manager
California City, Calif (PRWEB) September 25, 2012
The Arcata Associates Research Facilities & Engineering Support Services (RF&ESS) Team is gearing up for the 7th Annual Arcata Community Connections Golf Tournament on Friday, October 19th at Tierra del Sol Golf Club in California City. This tournament recognizes Arcata's customer, NASA Dryden Flight Research Center, sponsors, and the partnership with the Antelope Valley community. Registration will be open until the day of the event. On the day of the event registration begins at 11:00 a.m. with a shotgun start at noon. For more information visit http://www.arcataassoc.com
Over the past six years, Arcata has raised over $75,000 in support of various Antelope and Victor Valley charities. Our annual tournaments have accommodated as many as 140 golfers. This year proceeds received will benefit the Antelope Valley American Red Cross and the Antelope Valley Boys and Girls Club.
The American Red Cross has been active in the community offering CPR, First Aid and Nurse Assistant Training classes; collecting blood donations; providing emergency communications to members of the Armed Forces; and coordinating feeding and sheltering agreements to assist people affected by disasters.
The Antelope Valley Boys' and Girls' Club has been serving the community for over 20 years by providing a great place for kids to be safe and happy. In 1999, they expanded their mission to stress education, technology, and career building in order to prepare youth to function as productive citizens in the community. Their current goals are to enhance their computer labs and offer computer and technology training to teenagers to prepare them for the future.
We invite you to show your community spirit and join us as a participant or sponsor. For registration and information please visit our website at http://www.arcataassoc.com