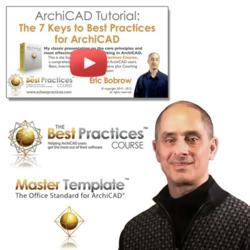 The improvement in work flow for me is directly related to the organization and simplicity of MasterTemplate as well as Eric Bobrow's ArchiCAD coaching and Best Practices Course lessons.
San Rafael, CA (PRWEB) March 18, 2013
Respected ArchiCAD expert Eric Bobrow has made it his personal mission to help ArchiCAD users get the most out of the program by teaching the best methods and key principles that leverage its power to greatest advantage.
In October 2010, Bobrow codified his analysis of the best methods and core principles for working effectively in the program, and produced a groundbreaking 45 minute video presentation on "The 7 Keys to Best Practices for ArchiCAD." He later turned this into an extended article published on AECbytes that has become a classic reference for ArchiCAD users and trainers.
Bobrow's Best Practices Course ArchiCAD training is designed around these concepts. His popular MasterTemplate for ArchiCAD embeds these Best Practices methods into the project file structure to make it easy to produce high quality and consistent results.
Up until now, this full length video on the 7 Keys has only been seen on the Best Practices Course website. Today, Bobrow announced that in celebration of the course approaching 1,000 members, he has posted the entire 7 Keys to Best Practices for ArchiCAD tutorial on his YouTube channel for all users to enjoy without charge.
The 7 Keys to Best Practices for ArchiCAD Boost Productivity, Bucking Industry Trends
These seven key principles are so effective that Bobrow frequently receives emails from architects enrolled in his course saying they enjoy working in ArchiCAD more and are able to deliver their work faster to their clients.
ArchiCAD users in the Best Practices Course report impressive gains in productivity of up to 100%, with some finishing design and producing construction documents in literally half the time that they had previously spent. Their investment in the course has had an impressive ROI, as their firms are now able to compete for work more aggressively and are significantly more profitable.
These results go against broader AEC (building industry) trends, as documented in Paul Teicholz's recently published AEC productivity study. Teicholz concluded that contrary to other economic sectors, and even with "increasing use of BIM technologies and the lean collaborative processes it supports", AEC firms are experiencing declining productivity.
It is clear that good training and an organized setup are key factors that help these ArchiCAD users improve their results.
Teaching an Old Architect New Tricks - and Best Practices - Makes a Huge Difference
Architect Lew Bishop, a veteran ArchiCAD user since 1995, recently wrote Bobrow about his dramatic improvements in efficiency and productivity after adopting MasterTemplate and enrolling in the Best Practices Course:
"I started a new house in Pacific Palisades and in a little more than a week did two designs and have half a set of preliminary drawings and a major portion of the plan graphics — fantastic.
"The improvement in work flow for me is directly related to the organization and simplicity of MasterTemplate [AMT] as well as Eric Bobrow's ArchiCAD coaching and Best Practices Course lessons. It seems that once a cohesive arrangement of the project is achieved the progress steps become clearer and connected…
"The AMT setup puts the user on the right track, right away to use the major portion of your program… As an example, I have not embarked into a lot of presentation work in the past as the clients just don't want to pay for the privilege, but now I can use it to further my own work without a huge penalty of time. In the time it took to do an update to the overall file, I got rendered elevations – not much setup, not much additional work for me – the views were just there. And it pointed out a couple of issues that were corrected in short order. The project is only started and a lot of information is available to help the client make choices and help me define the work scope more accurately.
"The above is a small part of the improvements in my work, work accuracy, and a pleasure to know that even with my advancing age [Lew is 75 years old], there is still a lot of work that can be done profitably."
About Eric Bobrow and Bobrow Consulting Group
After a 20 year career as an ArchiCAD reseller and master trainer, Eric Bobrow now shares his knowledge of ArchiCAD via online training and products.
His work has gained increasing popularity as he has solidified his position as the leading independent authority on ArchiCAD worldwide. Traffic on his ArchiCAD Tutorials channel on YouTube has quadrupled in the past 12 months, with over 750,000 views and 3,600 subscribers as of March 2013. (See April 10, 2012 press release: ArchiCAD Tutorials YouTube Channel by ArchiCAD Guru Eric Bobrow Reaches Triple Milestones.)
Bobrow shares more of his free ArchiCAD tutorials and articles on his website and maintains an active ArchiCAD Tutorials Facebook page.
Bobrow also teaches architects how to market and promote their design firms through his Internet Marketing for Architects Course and Architect Marketing Coaching Program.