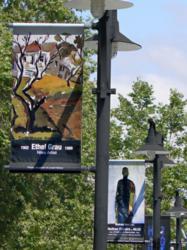 Who would have ever thought that Historic Banners would be banned from a Historic District
Fremont, CA (Vocus/PRWEB) May 25, 2011
Paul Welschmeyer Architects announces that the Niles Cultural Banners have been reinstalled after a three-year prohibition on banners within the City of Fremont. The Niles Main Street Association successfully negotiated for the Historic District of Niles to be able to display their historic banners once again.
The historical banners are now on display along Niles Boulevard in downtown Niles. The intent of the Niles Cultural Banner Program is to reveal the history of Niles so visitors, residents and politicians can work together to bring positive preservation, conservation and redevelopment to the historic oasis.
"Who would have ever thought that Historic Banners would be banned from a Historic District?" asked Paul Welschmeyer. "These banners are history lessons made fun and easy and gives folks a true sense of community."
The banners were created by Paul Welschmeyer Architects on a pro bono basis. Money for the creation of the banners was raised through sponsored donations and, upon creation, became property of the Community of Niles. After their initial installation by Barry Jennings Painting, they immediately became an integral part of the townscape until the legal department of the City of Fremont banned all displays of banners, necessitating their removal.
Paul Welschmeyer Architect believes in preserving and celebrating historical places because the past is part of everyone's culture. We all become richer through these efforts.
For more information, call 510-825-0783 or visit http://www.pwarchitects.biz.
About Paul Welschmeyer Architects
Paul Welschmeyer Architects is an architectural firm located in the Bay Area. The firm specializes in residential and commercial architectural design and green architecture. They are heavily involved in preserving and celebrating historical places around the Bay Area.
# # #