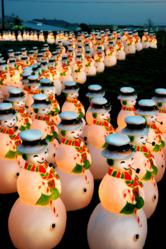 Sonoma, CA (PRWEB) November 27, 2012
The ever expanding Cornerstone Sonoma shopping destination, just five miles down the road from the city of Sonoma, includes five totally unique shops, two contemporary art galleries, two tasting rooms pouring award-winning wines, and Bruce Riezenman's newly opened Park 121 Café. These 10 businesses are joining together to offer special holiday shopping hours, extended to 7 p.m., every Thursday evening beginning on November 29th and ending on December 20. This special four-week Thursday night shopping experience has been designed especially for locals.
"Locals' Late Night" will offer a vast assortment of special pricing discounts, complimentary food and wine tastings, live music, as well as unique workshops covering topics such as "how to buy the perfect gift," "how to trim the perfect Christmas tree," plus various "trunk" shows, artist receptions, book signings, holiday crafting demonstrations, discounts on fine wines and much more. Also designed for this special locals' event is the sparkling Crystal Grove of holiday lighting created by the merchants to enhance your holiday experience.
"Visit & Vote" to support your local non-profit organization by getting out the vote every Thursday! One lucky organization will win a CornerStone Event Experience worth almost $15,000. This project is a great for a non-profit fundraiser or an exciting auction item. See http://www.CornerStoneSonoma.com for additional details.
CornerStone Sonoma is located at 23570 Arnold Drive/Hwy 121 (across the highway from Gloria Ferrer) just look for the big blue chair. For additional information, events and schedules visit http://www.CornerStoneSonoma.com.
Come out to Cornerstone for 'Locals' Late Night" and enjoy the Café and tasting rooms that will help make your Christmas shopping a little less hectic this year. Grab a cup of coffee or a glass of wine and shop at these unique CornerStone Sonoma merchants:
Artefact Design & Salvage (http://www.artefactdesignsalvage.com)
At Artefact Design & Salvage, a California antique store with a four thousand square foot indoor and expansive outdoor "laboratory," you can expect to find objects of consistent quality, originality and soul. Offerings include antique architectural pieces, decorative objects crafted from salvage, large scale organic forms and exclusive home décor items. Special event – November 29: free hot apple cider and 15% discount on select merchandise.
Country By Eurasian Interiors (http://www.eurasianinteriors.com)
Country by Eurasian Interiors brings together home décor items from throughout Asia, Europe and the United States. Featuring beautiful Chinese antiques and distressed furniture from reclaimed wood, quality upholstered furniture made by hand in California, and many interesting gift items. Eurasian Interiors is also known throughout the Bay Area for its amazing collection of designer soy candles and diffusers. Owners Erick Wang and Leon Monderer have operated their original store in San Francisco since 1999 and opened the Cornerstone shop just last year. Special event - November 29: a free gift with purchase.
John Denning Studio and Gallery (http://www.johndenningstudio.com)
In August of this year, John Denning opened the first artist-in-residence studio/gallery at Cornerstone. Denning, a Bay Area figurative artist originally known for his abstracted watercolors in vibrant colors, has also become a sought after bronze sculptor. Lately, Denning has been developing a fresh body of work, incorporating elements of both two and three dimensional work: mixed media, archival digital prints on paper and silk, and dye sublimation transfers on aluminum from 12" x 16" to mural sizes. Denning and partner Brigitte Micmaker also own and operate A New Leaf Gallery/Sculpturesite. Special event - November 29: Gallery tour, discussion on the creative process, plus 10% discount.
Keating Wines (http://www.keatingwines.com)
An extremely small production winery, Keating Wines makes a conscious effort to source the best possible fruit available from appropriate appellations throughout Sonoma and Napa counties. We specialize in high-end Bordeaux varietals including Cabernet Sauvignon, Malbec and Petite Syrah as well as Zinfandels from both Sonoma Valley and Dry Creek Valley. Special event – November 29: 25% discount on all Cabernet Sauvignon wines.
Meadowcroft Wines (http://www.meadowcroftwines.com)
Enter the Meadowcroft Wines tasting room and you will embark on a wine tasting journey through Northern California's premier wine growing regions. Taste outstanding wines from Sonoma's Carneros appellation, Dry Creek, Knights Valley, and the highly acclaimed Estate Cabernet Sauvignon from the Mount Veeder appellation in Napa County. Featuring the Meadowcroft, Thomas Henry and Foyt Family Wines, there is a delicious wine experience awaiting every palate. Special event – November 29: free wine tastings plus end of vintage case sales.
A New Leaf Gallery – sculpturesite (http://www.sculpturesite.com)
A gallery dedicated to modern and contemporary fine art sculpture featuring a variety of abstract and figurative sculpting by emerging, mid-career and internationally established sculptors. More than 60 outdoor sculptures are displayed throughout the grounds of Cornerstone. A New Leaf Gallery was originally established in Berkeley, California in 1990 and Sculpturesite Gallery in San Francisco in 2005. Special event – November 29: New and affordable wall pieces by Deanne Sabeck and Silvia Poloto with Sabeck's "Raindrops" project to benefit Global Water.
Park 121 Café (http://www.park121.com)
Opened in May 2012 by Executive Chef Bruce Riezenman owner of Park Avenue Catering, Park 121 Café is the latest member of the Cornerstone family. Park 121 offers casual dining al fresco, as well as indoors. From the art within to the art outside in its relaxing garden setting, you can trust Park 121 to deliver a comfortable selection of local foods prepared to surprise and delight. Park 121 provides efficient personal attention with refreshing local cuisine. A Café by Park Avenue Catering. Special event – November 29: complimentary dessert with dinner purchase.
Potter Green (http://www.pottergreen.com)
A garden gallery drawing on nature's own esthetic, Potter Green, founded in 2008 by Nina Gerety, offers locally designed and built garden furniture, fire pits, water features and plant containers. You will find sculpture, paintings and photography by California artists displayed throughout the garden settings both inside and outside the store. The gardening enthusiast will find heirloom seeds, watering cans, fine tools, and the backyard birder will find feeders, bird baths and bird houses as well as a wonderful selection of books and unique gifts. Special event – November 29: Artist reception for local photographer Robin Lavin.
Tesoro (http://www.tesoroflowers.com)
Tesoro began to bloom in the fall of 1992 in St. Helena. The shop moved to Cornerstone in 2011 and features an array of decorative items, antiques and of course, fresh flowers. In addition to weddings, special events, winery, restaurant and hotel accounts, Tesoro also delivers to homes throughout Napa, Sonoma and Marin counties. Special event – November 29: holiday crafting demonstrations featuring winter terrariums and snow globes.
Zipper (http://www.zippergifts.com)
Voted one of the Top 10 Independent Stores in the World by Retailer Magazine, Zipper curates a fantastic collection of the best gifts for all of your holiday needs. Zipper's selection includes luxury items for the home, design and cook books, candles, jewelry and art to the latest in children's toys and books. Special event – November 29: how to select the perfect gift.
About Artefact Design and Salvage
Artefact Design and Salvage was founded by Dave Allen in 1997. Originally located in Palo Alto, in 2004 Allen moved the company nearer to his home in Sonoma, California. Well respected within the interior design business, Allen has curated a collection of hard to find, rare antique architectural pieces, decorative objects crafted from salvage, large-scale organic forms and exclusive home décor products. AD&S offerings include antique furniture, lighting, mirrors, teak outdoor furniture, garden ornaments and sculpture and various pieces of architectural salvage in California. AD&S produces its own collection of unique gift items and unusual home decorations. During his extensive travels, Allen gathers decorative accessories from the US, Europe and Asia. Closer to home, Allen includes in the collection carefully selected sculpture and paintings from prominent local artists, commissioned pieces and a growing range of pieces designed by Allen himself.