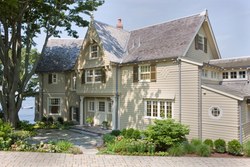 as if they'd been there forever.
Boston, MA (PRWEB) June 7, 2010
Selkirk Ledge is a massive Shingle Style country home located on Cape Ann, north of Boston. The home's setting is picturesque - it overlooks the Atlantic Ocean on one side and on the other side offers views of the Annisquam River and a historic lighthouse. The homeowners, who also have residences in Moscow and Luxembourg, were in search of a gathering place where they could be close to their children who were attending school in the U.S. Selkirk Ledge intrigued them with its detailing similar to what they had seen in Europe and their native Russia.
Quaintness aside, the house was in dire condition; little had changed in the house since 1900. Mostly unheated and showing the effects of a century facing the open Atlantic Ocean, Selkirk cried for help. Carpenter & MacNeille, known for its historic renovation expertise, was chosen for the restoration because they offer a high level of comprehensive services inclusive of architecture, construction, and interior design. The homeowners were away for most of the design-build process so they appreciated the convenience of a one-source design firm.
Under the direction of Robert S. MacNeille AIA, Selkirk Ledge was expanded and completely restored. MacNeille's comments to Architectural Digest were "Short of demolition, there was only one course to take. We stripped it down to the bare bones." While there was a need to modify and add to the original structure, it was important that the finished house maintain its singular turn-of-the-century shingle-style detailing and that the transitions from old to new be seamless and undetectable. Thoughtfully placed additions include a new garage, a bay window facing south off of the living room, new shed dormers with ocean views, and a magnificent bay in the dining room facing the ocean. James Fitzgerald, Director of Construction at Carpenter & MacNeille, supervised the entire construction process while maintaining a close watch on schedules and budgets. All of the home's custom paneling, millwork and cabinetry was fabricated by Carpenter & MacNeille's sister company, Stephen Terhune Woodworking.
Carpenter & MacNeille Interiors, under the direction of Elizabeth Brosnan Hourihan, worked closely with the architectural staff on all aspects of the home's interior detailing, customization and finishes. Ongoing throughout the process was the specification and procurement of fine furnishings, window treatments, rugs, lighting, artwork and accessories - many requiring knowledge of historical accuracy, Most of the furnishings are new and several pieces were handmade in England and Italy. Antiques, some dating as far back as the 17th century, complete and complement the interiors. Hourihan describes her interior design as "painterly and fine" and selected pieces that looked "as if they'd been there forever." The art collection is from renowned Cape Ann artists from the 19th and 20th centuries. The location of this home is where many artists actually painted because of its beautiful ocean views.
The finished project combines restored 19th century architecture with innovative systems and amenities. The surrounding ledge outcroppings and hearty native plants were invited into a new landscape plan which re-grounds the house onto its perch overlooking the Atlantic.
About Carpenter & MacNeille
Carpenter & MacNeille was founded in 1996 by Robert S. MacNeille, AIA and the late Terry Carpenter. Unique in their comprehensive and collaborative approach to fine homebuilding, Carpenter & MacNeille offers a wide range of home design and building services including architectural design, construction, interior design, home maintenance and, through sister company Stephen Terhune Woodworking, cabinetmaking, millwork, and custom furniture. The firm is located in the historic Essex Falls Trolley Car Barn in Essex, Massachusetts.
Carpenter & MacNeille
106 Western Avenue
Essex, MA
978-768-7900
http://www.carpentermacneille.com
Contact:
Debra LaPorte, CPSM
Debra LaPorte Communications
debra(at)debralaporte(dot)com
978-375-9413
###