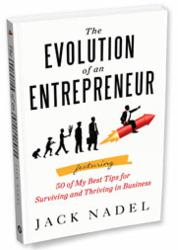 All successful entrepreneurs, born or made, must evolve.
~ Jack Nadel
Santa Barbara, CA (PRWEB) March 18, 2013
As a successful global entrepreneur for nearly 70 years, Jack Nadel is often asked the question "Are entrepreneurs born, or can you train and develop them?" His response is always, "yes, both answers are true."
Politicians, union leaders, industrialists, and economists all concur that more people producing products and services will result in a better economy and create more social mobility. The problem is that very few leaders have clear and specific ideas about how to make this happen, and if they do, their message is not getting across. Nadel offers a solution that creates a lasting impact on the economy, starting from the inside out, with evolving entrepreneurs to grow and succeed, thus creating a ripple effect to develop more jobs and help increase funds headed back into the economy.
With current economic conditions, there is no such thing as a one-size-fits-all solution. However, encouraging entrepreneurs to evolve and to develop a targeted thinking process is critical, claims Nadel, both for the success of the entrepreneur and the economy.
"The great majority of ambitious people can be trained to achieve success," says Nadel. "The important factor is not to learn how to do one job but to think in terms of needs in the marketplace. The next generation of entrepreneurs will be men and women who are highly attuned to consumer needs, willing to research and adjust continuously, and stay nimble in the face of constant change."
He argues that one aspect of the age old question is not in dispute. "All successful entrepreneurs, born or made, must evolve. They have to or else they won't be in business for very long. There are simply too many ever-changing variables in the marketplace for today's entrepreneur to stand in one place for long."
For seven decades, Jack Nadel and his various companies, including Jack Nadel International, have been immersed in the global marketplace, buying and selling and always keeping a close eye on exchange rates and the unmet needs of the marketplace. Over the years he has used this experience to develop the "Nadel Method" that has broad applications for entrepreneurs of all types. In his latest book, The Evolution of an Entrepreneur, Nadel gives a clear presentation of the steps involved as well as 50 of his best tips for success. Each entrepreneurial tip is supported by specific and current business examples. New entrepreneurs will benefit from learning how to avoid common pitfalls and spot emerging opportunities. Above all, the author advises newcomers, "You must be determined that good things will happen. Success begins with your attitude… Do not fear failure on your journey—learn from it, and don't let your ego get in the way!"
Jack Nadel's new book, available as both an eBook and printed edition through Amazon and all major online book retailers, is also in part a memoir. The reader follows Nadel's career trajectory starting with his Depression era childhood on the streets of New York. The lessons he learned there proved invaluable. Later, Nadel, a decorated war veteran, realized the lessons of leadership and teamwork during his military service in World War II. After the war he was quick to see a host of emerging international business development opportunities. As he explains, "When I returned to civilian life, I hadn't yet heard of the word entrepreneur, but I knew I wanted to be in charge of my own destiny." Nadel soon prospered, and over time, he rose to become an industry leader and business author.
Although Nadel retired from Jack Nadel International a few years ago, he still keeps an active interest in the company, which celebrates its 60th anniversary this year. Today, Nadel is a committed philanthropist serving his community, and continues to mentor entrepreneurs nationwide with books and regular articles.
He was motivated to write this new book at the age of 89, by a need to share his vast insights and to encourage the next generation of entrepreneurs and business leaders and to help spark economic growth and greater prosperity.
Media professionals, business outlets and entrepreneurial programs are encouraged to contact media(at)jacknadel(dot)com for a free copy of Jack Nadel's latest book. Virtual and telephone interviews are available.
Visit http://www.JackNadel.com for immediate access to a reading sample and more information about The Evolution of an Entrepreneur.