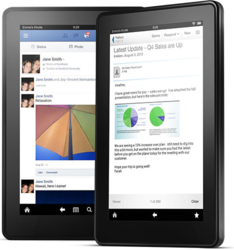 Be amazing. Get noticed.
Rockaway, N.J. (PRWEB) March 05, 2013
Are YOU Jelly? is running its second contest where you can win an Amazon Kindle Fire.
The prior contest closed on February 28th and they awarded Andrew Hatelt with a new Nikon Coolpix Camera.
The Amazon Kindle Fire contest will run through April 30th, and requires users to submit a photo or video clip to enter the contest. Users can post something amazing they've collect or purchased, a place they've visited, a talent, or an achievement they would like to share.
Entries will be judged by the community who will rate each post and ultimately select the winner by clicking on the "I'm Jelly" button, which signifies that the user admires the post. The user with the most "I'm Jellys" will win the prize. This is why it is beneficial for those entering the contest to invite their friends and family to the site to vote for their photo or video, which is exactly what the first contest winner, Andrew, did. Those interested should visit the contest webpage at: http://areyoujelly.com/contest/amazon-kindle-fire/ for all the details.
This contest is running because Are YOU Jelly? believes people should be rewarded for sharing amazing things they collect or purchase, places they visit, a talent they possess, or an achievement they accomplish with the community and help motivate and inspire others to do the same. This is exactly why Are YOU Jelly? wants to create this community. This is the second contest of many that Are YOU Jelly? will host in 2013. A different prize will be given away for each contest.
Are YOU Jelly? is a social media site that encourages users to share amazing items they collect, purchase, places they visit, a talent, or achievement with their friends and family. Their mission is to motivate the community to strive to be more amazing in their lives and reach their goals. Users can also search for gifts or inspiration based on amazing images and videos that others post, which can be added to a bucket list for future achievement. For more information, visit http://areyoujelly.com.