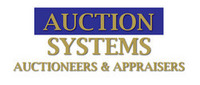 We are very excited to host this Phoenix marathon auction
Phoenix, AZ (Vocus) November 26, 2010
Arizona auction house, Auction Systems Auctioneers & Appraisers, Inc. will be hosting a Phoenix marathon auction featuring jewelry, fiduciary trusts, bank forced liquidations, school district equipment and supplies, surplus including commercial restaurant equipment and more on Saturday, December, 4 2010.
Items of interest for this Arizona auction include: a Casio keyboard, Pre-ban ivory figurines, Limoges China plates, Sin City movie poster, antique PerfectScope 3-D finder, Maxam leather jacket, Phillips 42" flatscreen TV, 9' faux Christmas tree lighted, Miller welder, Shelterlogic canopy, Parkway scuba wetsuit, Lakeland scrubs, Pullman-Holt gloss boss butter, Ice Johnny Nero action hero, arcade game, Fast-T Jet 3 commercial garmet inkjet printer, Bevles Tender Touch commercial oven and Apple E-mac computers.
"We are very excited to host this Phoenix marathon auction," said Deb Weidenhamer, CEO of Auction Systems. "This auction should provide attendees a incredible opportunity to get discount prices on a wide variety items including fine jewelry and time pieces, tools, electronics, computers and much more."
This Phoenix marathon auction will be held on Saturday, December 4, 2010 at 9:00 a.m. at Auction System's auction house in Arizona. All of the items listed in the auction may be previewed and inspected by interested bidders on Thursday, December 2, 2010 from 4:00 p.m. to 6:00 p.m., Friday, December 3, 2010 from 10:00 a.m. to 2 p.m. and on auction day from 8:00 a.m. to 9:00 a.m., one hour prior to the auction.
Items will also be available for preview and online bidding on Saturday, November 27, 2010, ending at midnight prior to auction day. Interested parties can visit Auction System's Arizona auction schedule to preview and sign up for online bidding.
About Auction Systems Auctioneers & Appraisers, Inc.
Auction Systems Auctioneers & Appraisers, Inc. is the Southwest's most active auction and appraisal company. Auction Systems features live and live simulcast auctions and appraisals of stolen and confiscated Police and personal product including cars, tools, electronics, jewelry, sporting, coins and surplus, as well as auctions of commercial and heavy equipment, real estate, antiques, guns, estate and business liquidation and bankruptcy.
Based in Phoenix, Arizona and an INC. 500 company, Auction Systems is one of the fastest growing privately held companies within the United States. Additionally, Auction Systems is an ICIC INC. 100 company and is ranked as the #1 fastest growing woman-owned business and the fifteenth fastest growing business overall within the inner cities of the United States.
Auction Systems Auctioneers & Appraisers, Inc. can be found on the web at http://auctionANDappraise.com.
###