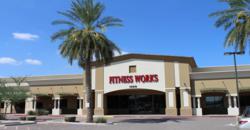 Free 21 Day Fitness Memberships are Key to Begin New Fitness Routines
Arizona (PRWEB) November 28, 2012
Why continue with the life style that is currently accustomed. More and more people are becoming obese and this leads to health problems such as heart problems, high blood pressure, joint pain, sleeping problem, diabetes and lots more. As a result of this it is becoming very important that daily routines of fitness become part of everyone's lives.
Even if someone is not overweight at the moment the benefits of a daily exercise routines are too important to be ignored, as to prevent getting overweight will not shorten life expectancy.
Due to an increase in awareness of fitness levels, gyms have had to become more competitive. They now have better standards of equipment, more facilities, and more staff to help members pick out the best training solution for their needs.
Fitness Works Gym in Mesa Arizona has all the latest machines and offers fitness programmers for all the family. It is in a convenient location and opening hours are from 4am till 11pm on some days and open at the weekends too. This flexibility makes it an obvious place to start an exercise program and if one prefers to attend when it is less busy, then they will have many more options to do this. Always being welcomed by a friendly face at reception regardless of the visit.
Bring Young children to the kid zone to play while training. There are fitness activities for kids available as well as child care for younger children. Therefore even stay at home mums who don't have easy access to child care, can come and exercise in the gym.
Why not take advantage of the 21 day free Arizona fitness membership pass. This will help to see if the gym will fit in with the life style and see if there is a fitness routine to suit. Exercise is needed daily for a health lifestyle, and the gym offers many fitness classes such as water zumba to inspire. The instructors are fully qualified and very motivational helping to lead to a healthier well being.
This affordable solution to good health will not only make one feel better physically, but they will feel more alert and happy as well, so why not give a world class facility a try? Visit http://www.fitnessworks.com for more fitness workout information.