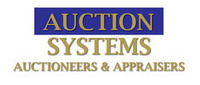 The Valley of Peace Beginning a Perfect Day
Phoenix, AZ (Vocus) November 16, 2010
Auction Systems Auctioneers & Appraisers, Inc. will be hosting an Arizona police auction featuring police confiscated vehicles, stolen and forfeited jewelry, confiscated property, tools, city surplus, school district supplies and equipment, electronics, restaurant equipment and more on Saturday, November 20, 2010.
Items of interest for this Arizona police auction include: a Samsung side-by-side refrigerator, sectional sofa, solid wood entertainment center, Artwork including Thomas Kinkade " The Valley of Peace Beginning a Perfect Day" limited edition framed print, Cobra compound bow with accessories and case, Mitsubishi 52" TV, Makita wet saw, Paramount weight bench, signed Eric Gagne #38 Cy Young framed authentic Los Angeles Dodgers jersey with certificate of authenticity, signed Sammy Sosa wood baseball bat, Panasonic DVD home theater, golf clubs and accessories, skis, Spots roof rack, FTI coolant Reclaimer, commercial confection oven, Delfield 3-door commercial freezer and a Anets deep fryer.
"This Arizona police auction features a wide variety of police confiscated vehicles, property and other items," said Deb Weidenhamer, CEO of Auction Systems. "This auction will provide attendees a great opportunity to purchase discounted jewelry, electronics, appliances and much more."
This Arizona police auction will be held on Saturday, November 20, 2010 at 9:00 a.m. at Auction Systems located at 951 W. Watkins in Phoenix. All of the items listed in the auction may be previewed and inspected by interested bidders on Thursday, November 18, 2010 from 4:00 p.m. to 6 p.m. Friday, November 19, 2010 from 10:00 a.m. to 2:00 p.m. and on auction day from 8:00 a.m. to 9:00 a.m., one hour prior to the auction.
Items will also be available for preview and online bidding on Saturday, November 13, 2010, ending at midnight prior to auction day. Interested parties can visit Auction System's Arizona auction schedule to preview and sign up for online bidding.
About Auction Systems Auctioneers & Appraisers, Inc.
Auction Systems Auctioneers & Appraisers, Inc. is the Southwest's most active auction and appraisal company. Auction Systems features live and live simulcast auctions and appraisals of stolen and confiscated Police and personal product including cars, tools, electronics, jewelry, sporting, coins and surplus, as well as auctions of commercial and heavy equipment, real estate, antiques, guns, estate and business liquidation and bankruptcy.
Based in Phoenix, Arizona and an INC. 500 company, Auction Systems is one of the fastest growing privately held companies within the United States. Additionally, Auction Systems is an ICIC INC. 100 company and is ranked as the #1 fastest growing woman-owned business and the fifteenth fastest growing business overall within the inner cities of the United States.
Auction Systems Auctioneers & Appraisers, Inc. can be found on the web at http://auctionANDappraise.com.
###