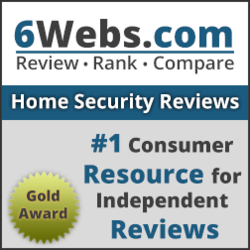 Compare the features and services available from the leading home security monitoring providers on 6Webs.com.
(PRWEB) March 08, 2013
6Webs.com, the leader in independent home security reviews, released their picks of the top home security system companies in the state of Arizona. Unfortunately, the property crime rate in Arizona is exceptionally high. There are over 225,000 property crimes each year according to the FBI's Uniform Crime Report. Arizona residents know the importance of safety and now they can rely on independent reviews from 6Webs.com to help them purchase the best security system for their home and family.
In response to growing demand for what we now know as next generation security systems, 6webs.com has reviewed the top home security companies providing these services in Arizona. All home security company reviews are based on specific criteria, which include:
1. The safety features of the security system
2. Customer service record of the home security companies
3. Pricing and Monitoring plans available
4. Mobile access from iPhones, iPads and Android devices
5. Quality of the home security equipment
To view the national rankings of the best home security companies visit 6Webs.com at:
http://www.6webs.com/home-security-systems-reviews/
In a recent statement, Tim Smythe from 6Webs.com said, "Arizona has a higher than average property crime rate so it was important that the 6Webs.com review team release reviews of the best Arizona home security companies. Until now, Arizona residents didn't have an independent resource to refer to for unbiased home security reviews. Choosing a home security monitoring company is not an easy task with so many options available in the market. 6Webs.com aims to make this process easy by conducting the research and comparing each provider on a feature by feature basis."
The top rated home security system companies all shared the aspects that are most important to Arizona residents. Reliability is the biggest concern and the top companies all provide brand named home security equipment and offer a warranty. Additionally, the technology used to communicate from the home security system to the home security company is cellular, which is a 100% wireless and secure method of communication that is far superior than a landline or Internet-based connection. The second largest concern was ease of use. Companies like FrontPoint Security and Protect America offer do-it-yourself or DIY home security systems that for the most part are pre-configured before they arrive to the customer's home, making setup a breeze. ADT, however, has professional installation services where a technician install the home security system and sensors then is there to answer any questions a customer might have.
About 6Webs.com
6Webs.com is the leading provider of independent and unbiased home security systems reviews. 6Webs.com is focused on delivering educational information as well as side-by-side comparisons of the top home security companies in the nation. Consumers can quickly find the information they need when browsing their information online.
For the latest tips and information on home safety visit the 6Webs.com blog where consumers will find a wealth of information that helps to keep families and homes safe.