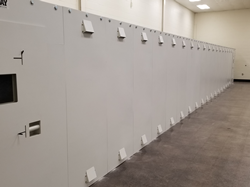 In the event we have a tornado threat or an intruder on campus my staff and students can be out of harm's way in less than 2 minutes.
QUITMAN, Ark. (PRWEB) January 09, 2019
The Quitman School District in Quitman, Arkansas is the first district in the state to install safety shelters in every classroom. Their facility includes elementary, middle and high school grades housed on the same campus meaning all students in the entire district are now protected from both tornadoes and active shooters.
The shelters, manufactured by Staying Home Corporation in Harrisonville, Missouri and distributed through National Safety Shelters have been designed and tested to withstand the violent force of an EF5 tornado with wind speeds of 261-318 mph. Should the threat of a tornado be imminent, students and staff have immediate access to safety since the shelters are right inside each classroom. In school districts that currently have tornado shelters, students and staff must all convene in one or several shelters outside the main school buildings which involves a cumbersome procedure and puts them at risk since they are unprotected en route to the shelter.
Immediate protection of students and staff from an active shooter is a salient feature of these shelters since they are made using ¼" American-made NIJ Ballistic Level IIIA steel which resists all handgun and shotgun rounds. Quitman opted to maximize protection by upgrading to Ballistic Level III military-grade steel which resists rounds from semi-automatic weapons like the AK-47 and AR-15 rifles. The AR-15 was the weapon used in several mass shootings including Sandy Hook Elementary School in Newtown, Connecticut, Marjory Stoneman Douglas High School in Parkland, Florida, Pulse nightclub in Orlando, Florida, Harvest festival in Las Vegas, Nevada and the First Baptist Church in Sutherland Springs, Texas.
In addition to installing shelters in each classroom, Quitman also decided to locate a single large shelter in their cafeteria (175 person capacity) and several more in their new Science Lab facility, also on campus.
The Federal Commission on School Safety released a Final Report on Dec. 18, 2018 which recommends that school administrators "harden" their schools by seeking "to create secure spaces within classrooms where students and teachers can shelter in the case of an active shooter."
The efforts of Quitman's administration to protect their students and staff sets a precedent for other districts in the state and beyond to search for reliable solutions to the urgent challenge of school safety.
Dennis Truxler, Superintendent of the Quitman School District remarked, "I spent a lot of time last spring researching the best possible way to keep my staff and students safe. I found nothing that comes close to the added security we have with safety shelters in every classroom. In the event we have a tornado threat or an intruder on campus my staff and students can be out of harm's way in less than 2 minutes."
The Quitman School District is way ahead of the curve in their efforts to "harden" their schools from not only destructive weather events, but the ever-increasing threat of violent armed intruders.