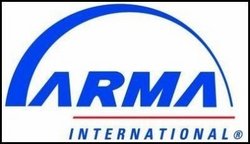 (Vocus) March 16, 2009
ARMA International recently launched a new and different blog that covers interesting, alarming, and amusing news from the world of records and information management. The blog, InformationOverload, also serves as an aggregator of top industry blogs covering issues such as e-discovery, information technology, and content management. InformationOverload brings both informative and outrageous stories in the information management world to one central location to keep professionals informed on various topics.
Marilyn Bier, ARMA International's Executive Director, explained, "The blog is a great way for us to improve dialogue with information management stakeholders around the globe. It's not your average information management blog. We feel it's important to keep readers up to date on key information management news stories, as well as the ones further out on the fringe."
Updated regularly, the blog is an ideal way for information management professionals to stay informed. InformationOverload is available at: http://armablog.typepad.com/informationoverload/.
About ARMA International
ARMA International (http://www.arma.org) is a not-for-profit professional association and the authority on managing records and information. It is known worldwide for setting standards and best practices, and for providing comprehensive education, publications, and information on the efficient maintenance, retrieval, and preservation of vital information created in public and private organizations in all sectors of the economy. Formed in 1955, ARMA International is the oldest and largest association for the records and information management profession with a current international membership of more than 11,000. It also publishes the Information Management Magazine.
# # #