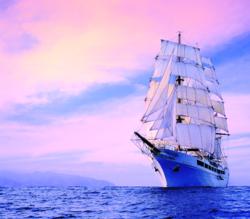 With context provided by on-board lectures from distinguished scholars, passengers will visit classical sites in Syracuse and Segesta and a baroque palazzo whose owner, Baron Beneventano, will personally welcome them.
New York, New York (PRWEB) April 15, 2013
National Geographic Traveler, the prestigious travel magazine published by the National Geographic Society, has selected Academic Arrangements Abroad's "Sicily By Sea: Art Treasures & Ancient Temples" program as one of its "50 Tours of a Lifetime." The trip will be featured in the magazine's May 2013 issue.
The program, which is a new offering from the tour operator, features a seven-night cruise aboard the elegant sailing yacht Sea Cloud II. Onboard lectures by distinguished scholars Frank Dabell, professor of art history at the Temple University campus in Rome, and Patrick Bowe, architectural historian and author of Gardens of the Roman World, will provide an overview of Sicily's 2,500 years of civilization. On shore excursions, travelers will discover the Archaeological Zone in Syracuse and the Greek temple and theater in Segesta, among other treasures.
Specially arranged visits, a hallmark of Academic Arrangements Abroad's approach to travel, are another highlight of this unique itinerary. In Syracuse, participants will visit the baroque palazzo of Barone Beneventano for a personal tour by the baron himself, and in Palermo they will attend a reception at the Palazzo Gangi, hosted by Princess Carine Mantegna de Gagni.
"I am absolutely thrilled that National Geographic Traveler has chosen our Sicily program as one of its '50 Tours of a Lifetime,'" said Jim Friedlander, President of Academic Arrangements Abroad. "The magazine's readers have the same spirit of inquiry and adventure that we celebrate in all our itineraries."
ABOUT ACADEMIC ARRANGEMENTS ABROAD
A leader in academic travel since 1977, Academic Arrangements Abroad provides an insider's look at extraordinary destinations in more than 50 countries through its networks of museum curators, professors and diplomats. Each itinerary is designed for sponsoring institutions, a list that includes some of the nation's preeminent museums, cultural organizations and alumni associations.