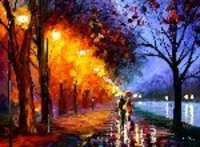 When he moved to Israel, he thought they would be welcoming since he was Jewish
Boca Raton, FL (PRWEB) March 26, 2009
After finding his studio vandalized in February 2000, Leonid Afremov knew Israel wasn't as welcoming as he thought.
His hard work and paintings were ruined. Knife-slashed canvases, some of them missing altogether while others hung from the walls, crooked and useless. Thieves ruined pieces of his art and tore holes in his dream to become a great artist.
Speaking no English, this Russian-Jewish artist had to fight to get his worldwide recognition. He was born in Vitebsk, (USSR) Russia in 1955 where Marc Chagall was born. Chagall was a famous artist who founded the college Afremov attended, Vitebsk University.
Afremov lived in Russia for 35 years painting what the government forced him to do, such as billboards and posters for the communist party. Not liking the fact that he was being dictated what to paint and how to paint, he fled to Israel in 1990 in the hopes of finding artistic freedom.
"When he moved to Israel, he thought they would be welcoming since he was Jewish," said David Afremov, Leonid's son and art manager. "But unfortunately, people who are from Israel only care about other Israel-born Jews."
The thieves broke into his Israel exhibition studio through the front door and back windows. There wasn't an alarm system installed since the area surrounding were mostly families and small businesses. After the break-in, he went to the Israeli Police.
"They asked him, 'Are you Russian? Then go to the Russian Police,'" said David. "Not only would the police not help him, they discriminated against him even though he was Jewish. He wasn't an Israeli-born Jew."
Israel didn't agree with the way he painted men and women together nude and black jazz artists. They thought that artists should paint only Jewish people.
With no help from police or any leads on who broke into his studio, Afremov made the decision to move his family to the United States in 2001 to finally be able to become a recognized artist.
"Moving to the U.S. was the best move for his career. He moved to New York City where he began working on his craft," said David. "In 2002, his artwork was in museums hanging next to artists like Rembrandt."
Today he has over four thousand paintings, in 60 galleries all over the world in Australia, New Zealand, Africa, Israel and the U.S. He's only been living in the States for eight years and before that he wasn't widely known for his art.
He lived in NYC for two years while the cold weather started impacting his work. It was beginning to be darker and less colorful than his typical brightly colored landscapes and images.
In 2004 he and his wife, Inna and their two sons, David and Boris, moved to safe and sunny Boca Raton, Florida.
In the U.S., Afremov can paint whatever he sees or visualizes in his mind. There's no government stopping him from painting nude bodies, as they did in Israel, or a government prohibiting him from expressing himself at all.
The Afremov's launched a new art auction website in October 2008 where visitors can purchase his paintings starting at $1. Since the launch, each month there has been a 100% increase in sales, and they have moved into a new studio warehouse to meet the demand.
For more information, visit: http://www.afremov.com
By Samantha Andrews
###