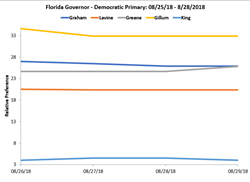 "The specific problem we're solving is to understand and predict, in advance, what action voters and citizens will take in a particular scenario based on their cognitive bias," said Ryan Gragg, Director of Engagement and Co-Founder of CivixAI
WINSTON-SALEM, N.C. (PRWEB) September 06, 2018
Artificial intelligence continues to advance rapidly into new markets. To that point, CivixAI, an artificial intelligence technology with two decades of experience within the automotive and finance industries, is being applied to politics and public policy. One such example was during Florida's recent gubernatorial primary. It is important to understand that the output CivixAI produces is a readout of the cognitive bias (i.e. natural instinct) of the audience it is being asked to analyze. When CivixAI's technology was applied in the aforementioned Florida primaries, it found that the cognitive bias among likely Democratic voters actually favored Tallahassee Mayor, Andrew Gillum over all other candidates. As for the Republican primary, it also found that the bias was stronger for Rep. Ron DeSantis than for Florida Commissioner of Agriculture, Adam Putnam.
While CivixAI believes it is providing a long-overdue advancement within the public opinion and survey research discipline, it is not a replacement for existing firms or platforms that actually collect data. Numerical data tied to human behavior, like polling percentages and campaign contributions, are examples of inputs required to identify an audience's cognitive bias.
"The specific problem we're solving is to understand and predict, in advance, what action voters and citizens will take in a particular scenario based on their cognitive bias," said Ryan Gragg, Director of Engagement and Co-Founder of CivixAI. "For instance, we may want to predict who voters will elect in a specific race on November 6th. Or, in a public policy context, we may want to predict what health crisis will arise within a specific community before it actually happens. This allows for more targeted preventive health campaigns and resource planning by public health departments," said Gragg.
Other notable races where CivixAI out-performed standard polling predictions include the 2017 U.S Senate special election in Alabama, in which it predicted a win for now-Senator Doug Jones as early as late September and the 2018 West Virginia Republican primary for U.S Senate, in which CivixAI identified the surge in Republican voter preference for Don Blankenship two months before it was realized by any other source.
CivixAI, LLC is a behavioral prediction artificial intelligence company. With a focus on politics and public policy, CivixAI predicts the future behavior of voters, citizens and policymakers based on their cognitive biases. For more information, visit http://www.CivixAI.com, or follow us on Twitter @AiCivix.