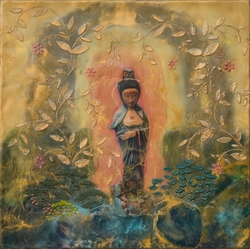 When Every Breath Is Prayer
San Miguel de Allende, Mexico (PRWEB) November 2, 2009
"When Every Breath Is Prayer" Art and Gift Show by Symbolic Artist Dawn Gaskill will be presented by the Moses Gallery in Dallas, November 12-15.
Dawn Gaskill, a resident of San Miguel de Allende, Mexico, who was recently awarded "Best in Show" at INATS West by New Age Retailer Magazine, translates ancient symbols and belief systems into contemporary art created to inspire the realization of personal intentions. Through her use of encaustic (wax medium) layers of color, Dawn creates Intentional Art that invites one to energize and activate what one most desires to manifest in their life -- love, health, abundance, creativity, family, wholeness and balance.
Dawn's Vision Statement for her work is to joyfully create beautiful art, product designs, and environments that capture people's imaginations, lift their spirits and nurture them in their daily lives. To accomplish that, she integrates ancient symbols from diverse cultures and belief systems into contemporary art for use in home and work environments -- art that supports the owner's pursuit of personal and professional intentions, helping them accomplish their goals and dreams.
Dawn will be in the Moses Gallery each day of her exhibition to share her knowledge, insights and Intentional artwork. Her original encaustic paintings and hand made and painted lifestyle items such as the Personal Daily Journal, Address books, ntentional card cases, fine art prints, note cards, Intentional art tiles and Talisman Jewelry will make perfect gifts for those who want to own or give meaningful art and beautiful items that reflect positive energy.
"Placing objects of inspiration and special meaning in your home and wearing Talisman Jewelry creates a positive, nurturing environment and vibration to enlighten your path and stir your soul," says Dawn, who is the owner of the Galeria Eclectica Gallery in San Miguel.
The "When Every Breath is Prayer" Art and Gift Show will include luminous encaustic paintings and art products with expressions of the Buddha, Bodhisattvas, White, Green and Red Taras; Egyptian symbols such as Sekhmet the Powerful One, Hathor Goddess of Love and Beauty, and Isis; from the Indian culture Ganesh Guardian of Gateways, Saraswati, and Lakshmi Goddess of spiritual and material abundance; Feng Shui symbols; the 72 names of God from the Kabbalah; icons from the Islamic tradition. From Christianity, her work includes Mary Magdalene, the Divine Mother and the Virgin of Guadalupe and St Francis. It is Dawn's way of saying we are all One.
"We are absolutely thrilled to have Dawn with us again; her 'Awakening' Art Show was such a success this past June," says Dale Moses, owner of the Moses Gallery. "As we come to the gift-giving time of year, I encourage people to see this show, because there is such an expanse in the expression of Dawn's art as she translates her symbolic images to highly affordable personal items imbued with meaning for the owner."
The New Age Retailer Magazine "Holiday 2009" issue says, "The Gratitude or Personal Journals combine Dawn's love of color, texture and symbolism with ancient texts and vibrant imagery in exquisite images that are reproduced on refillable journals. The images are outlined in gold, hand-painted and embellished, and then sealed with a long-lasting varnish. Inside the cover is a story about the symbolism in both English and Spanish."
Also available will be original encaustic Intentional Tiles carrying Dawn's signature artwork, which can function as a single element or you can combine them to create a meaningful collection to support your personal intentions. In addition, Dawn's Talisman Jewelry from pendants and earrings to cuff bracelets make popular gifts and are finely crafted with power stones, images of goddesses, Buddha, Egyptian faience pieces and calligraphy carrying the same themes repeated in her symbolic artwork.
"In creating 'When Every Breath Is Prayer' art, I wanted to honor the fact that since the beginning of time every culture has had a belief system in a higher power - whether through a connection to life consciousness, enlightened beings or gods and goddesses -- something to draw near in devotion.
These deities were approached for blessings and healings," Dawn says. "Yet today they remind us - not as something external to be worshipped -- that divinity is found within, and that in every action we take we have the chance to make every breath a prayer by recognizing that divinity which dwells within us all."
"This time of year, when people are thinking about highly personal, inspirational and very reasonably priced holiday gifts, I know a visit with Dawn Gaskill at the Moses Gallery will be very rewarding," says Kathleen Mulligan, who has purchased hand painted journals from Dawn. "They make really wonderful gifts for people of all walks and ages -- everyone I've given them to has been beyond tickled!"
Dawn's Preview and Lecture will be held on Thursday, November 12th at 6:30 p.m., and the Cocktail Reception will be Friday from 4:30 to 8:30 p.m. Also, meet Dawn in the gallery Saturday and Sunday, November 14th and 15th from 10:30 a.m. until 5:00 p.m.
Moses Art Gallery
3002 Wycliff Ave, Dallas, TX 75219
214-709-5151
Contact:
Dawn Gaskill
214-329-4484
dawn (at) dawndesigns (dot) com
http://www.dawndesigns.com
###