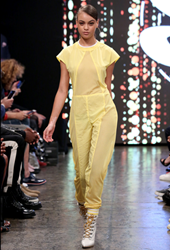 "The clothes are dope," raved Lala Anthony. "I love those sweatpants, the yellow see-through ones. I'm putting in my order today!"
NEW YORK (PRWEB) September 12, 2018
On Friday, September 7th, Artistix hosted the unveiling of their new S/S 2019 collection at New York Fashion Week. The runway style show took place at Cedar Lake Theatre and included 23 looks for both men and women.
The collection, titled Sierra, is based on a painting of the same name by owner and creator of Artistix, Greg Polisseni. By using the given color palette, Creative Director of the brand, Andy Hilfiger, then created an "active-fashion" line, featuring body suits and track pants for women as well as, anoraks and cargo shorts for men.
"This show was about introducing the idea of active-fashion," said Andy Hilfiger. "The concept is that you should feel comfortable but look fashionable so we included color-blocked bodysuits, embellished track suits, and lightly filled outerwear."
Familiar faces filled the runway kicking off with Andy's niece and model, Audrey Hilfiger. This was Audrey's New York Fashion Week debut after strutting the runway earlier that week in Shanghai for her other uncle, Tommy Hilfiger's show. The modeling cast also included Andrew Hilfiger, Andy's son, and viral sensation Shiggy, both sporting Artistix new 90's inspired stripped series. The front row also featured familiar faces including Tommy Hilfiger, La La Anthony, Tim Hardaway Jr., and rappers Grand Puba, and AZ.
"The clothes are dope," raved La La Anthony. "I love those sweatpants, the yellow see-through ones. I'm putting in my order today!"
To view, all of the runways​ looks, please click here. To view photos of the front row, click here.
About ARTISTIX Fashion:
A unique clothing brand founded by artist Greg Polisseni in the Fall of 2013. Greg has found passion in his artwork since childhood by creating original paintings that serve as the inspiration for his fashion lines. ARTISTIX has become a way for him to express his art, design, and creativity not only on a canvas but on clothing as well. The goal of the brand is to bring a fun, edgy, and a distinctive vibe to our clothing that complements your personal style.
About Greg Polisseni:
Greg Polisseni is an artist, fashion designer and visionary. Greg created ARTISTIX in the Fall of 2013 with one clear vision in mind, to create wearable art. Throughout his entire life, Greg has found art as a way of self-expression and wanted to offer the same outlet to consumers. Each of ARTISTIX unique collections is based on an original painting by Greg, making each piece of clothing a collectible item.
About Andy Hilfiger:
Andy Hilfiger joined as the Creative Director of ARTISTIX Fashion in April of 2016 with the vision of elevating the brand to the next level. Andy, whose previous ventures include the launch of the JLo brand Sweetface, the Adam Levine collection and the Nicki Minaj collection, embodies the idea of merging music, art, and fashion. With over 30 years of experience in the fashion industry, including his time at Tommy Hilfiger, Andy believes that ARTISTIX is the next big thing in the luxury streetwear culture. Learn more at http://www.andyhilfiger.com