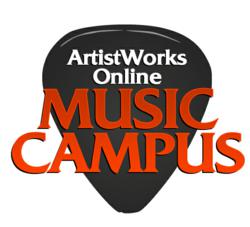 We'll be on hand to show everyone how to transform themselves from listener to player, learning directly from some of the best musicians in the world at the ArtistWorks Online Music Campus. - David Butler, ArtistWorks CEO
Napa, CA (PRWEB) May 01, 2013
ArtistWorks, the leading interactive social lifestyle learning platform, announced today their participation as the Official "Invitation to Play" Sponsor at the BottleRock Napa Valley Music Festival on May 9-12 2013.
The inaugural BottleRock Napa Valley will be held in the heart of the legendary Napa Valley, featuring over 60 artists, bands and performers from a variety of genres, including rock, soul/R&B, country, hip-hop, comedy and more during an incredibly diverse, four-day festival. Scheduled to appear are Kings of Leon, The Black Keys, Zac Brown Band, Furthur featuring Phil Lesh and Bob Weir, Jane's Addiction, The Shins, The Avett Brothers, Train, The Flaming Lips, The Black Crowes, Cake, Ben Harper & Charlie Musselwhite, Primus, Alabama Shakes, Jackson Browne, Edward Sharpe and the Magnetic Zeros, Dirty Projectors, Rodrigo y Gabriela, Dwight Yoakam, Michael Franti & Spearhead, Violent Femmes, Joan Jett and the Blackhearts, Blues Traveler, Iron & Wine, Grouplove, Cafe Tacuba, The Wallflowers, Brandi Carlile, Bad Religion, Andrew Bird, Matt Nathanson, X, and many more.
ArtistWorks' 24-school online Music Campus enables anyone to become the player they always wanted to be by learning online with world-renowned musicians. ArtistWorks will be on hand throughout the festival providing a VIP experience with instrument give-aways and live demonstrations of the ArtistWorks Video Exchange™ Feedback Platform.
"Watching BottleRock-caliber artists play such amazing music gets everyone fired up to play," said David Butler, CEO of ArtistWorks. "So we'll be on hand to show everyone how to transform themselves from listener to player, learning directly from some of the best musicians in the world at the ArtistWorks Online Music Campus."
The ArtistWorks' Video Exchange™ Feedback Platform enables students to get individualized feedback from monster players. Each ArtistWorks teacher creates a comprehensive online video lesson library, and subscribing students submit practice videos to these master musician/teachers. The teachers respond to each student with personalized video feedback. Student-teacher interactions are paired together on the site as "Video Exchanges" for all students to see and learn from. ArtistWorks' online schools are social e-Learning communities where enthusiastic amateurs can "up their game" and learn to play better with help and guidance from world class players.
ArtistWorks online schools are designed for a broad range of players – casual or serious – beginner to advance. Online lessons range from rock to jazz – bluegrass to Americana – and cover guitar, bass, drums, vocals, banjo, mandolin, fiddle, Dobro, harmonica, DJing, and much more.
About ArtistWorks, Inc.
Founded in 2008 by former AOL executive David Butler and former financial executive Patricia Butler, ArtistWorks, Inc. is the leader in a new generation of online learning platforms. Their revolutionary global learning community of world-renowned teaching artists and enthusiastic amateurs is dedicated to unleashing the music that lies within all of us. This "next generation" Video Exchange Feedback Platform enables virtuoso musicians to "teach the world" by presenting their musical legacy in the form of HD video lessons to subscribing students. Utilizing simple web cams, smartphones, tablets or video cameras, students are able to submit practice videos and get individualized video feedback and guidance from their teaching artists - creating a constantly evolving two-way, online learning experience.
ArtistWorks currently offers schools from such world-class artists as: Paul Gilbert (rock guitar lessons), Martin Taylor (fingerstyle guitar lessons), Jason Vieaux (classical guitar lessons), Andreas Oberg (jazz guitar lessons), Jeannie Deva (singing lessons), Nathan Cole (violin lessons), Jeffrey Khaner (flute lessons), William Caballero (French horn lessons), David Bilger (trumpet lessons), Ricardo Morales (clarinet lessons), Nathan East (electric bass lessons), John Patitucci (jazz bass lessons), Howard Levy (harmonica lessons), DJ Qbert (DJ lessons), Christie Peery (piano lessons), Billy Cobham (jazz and fusion drum lessons), Luis Conte (percussion lessons), as well as the ArtistWorks Academy of Bluegrass with Tony Trischka (banjo lessons), Missy Raines (double bass lessons), Bryan Sutton (flatpick guitar lessons), Andy Hall (Dobro lessons), Mike Marshall (mandolin lessons), and Darol Anger (fiddle lessons). For more information, visit http://www.ArtistWorks.com
About BottleRock Napa Valley
Situated on three stages spread over 26 acres on the grounds at the Napa Valley Expo in the City of Napa, BottleRock Napa Valley attendees will enjoy the best in wine and food from many of the finest vintner and culinary talents of the legendary Napa Valley. Approximately 60 vintner partners, along with artisanal micro-brewers, will be paired with dozens of Napa Valley restaurateurs and chefs, ensuring that BottleRock Napa Valley will provide a complementary culinary festival experience second to none. Doors to the Expo will open at noon, and performances will begin around 12:30 PM each day. More information can be found at http://www.bottlerocknapavalley.com.