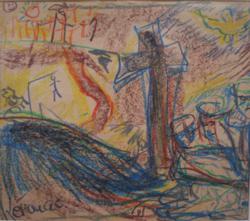 New York / Berlin / Paris (PRWEB) December 01, 2011
artnet Auctions presents the Holiday Ephemera Sale, an extensive auction of over 150 rare and unusual art collectibles—many of them one-of-a-kind—from the personal collections of well-known artists and collectors, covering a wide range of periods, styles, and art movements.
The highlight of the Holiday Ephemera Sale is an extremely rare, fully-realized drawing by Jack Kerouac (American, 1922–1969), Untitled, c.1957 (Est. US$7,500–9,500), rich in the Catholic imagery that was a recurring theme in his work, and an important part of his cosmology. The drawing depicts Christ on the cross, with three wise men standing in the foreground, as an angel descends from the heavens. In the background, a man hangs from the gallows while the sun shines over distant hills.
The sale also offers a wonderfully spirited pen-and-ink drawing by Salvador Dalí (Spanish, 1904–1989), Untitled, 1963 (Est. US$13,000–15,000), of a knight on horseback—probably Don Quixote—that the artist drew for an admirer on the title page of the 1962 World of Salvador Dali book, by Robert Descharnes.
Of great interest is a selection of important vintage Pop Art memorabilia, including one of the most rare and highly-coveted posters by collectors: Pepper Pot Poster: Ferus Gallery, 1962 (Est. US $4,500–5,500). This poster of the Campbell's Soup Can paintings by Andy Warhol (American, 1928–1987) was realized for the first Pop Art show in California, at the Ferus Gallery in Los Angeles. There is also a rare poster of Warhol's first sculpture show at Stable Gallery, New York, NY, in 1964 (Est. US$3,000–3,500), showing a photo of the artist in a suit and tie.
One of the most unusual works in the Holiday Ephemera Sale is a letter with a drawing of a frisbee by Keith Haring (American, 1958–1990). In the mid-1980s, the artist sent a letter to WHAM-O Manufacturing, Inc., protesting that their frisbee looked suspiciously like one of his artworks. His letter with the drawing, as well as the actual unauthorized frisbee are being offered on artnet Auctions (Est. US$4,000–6,000).
The Holiday Ephemera Sale is live for bidding on artnet Auctions December 1–8, 2011.
Visit the sale on artnet Auctions, at http://www.artnet.com/auctions/artist-ephemera-sale.
For more information, please contact:
USA
Halie Jorgensen
+1-212-497-9700 ext. 163
HJorgensen(at)artnet(dot)com
Germany
Marie-Kathrin Krimphoff
+49 (0)30 20 91 78 40
MKrimphoff(at)artnet(dot)de
France
Florence Alexandre
+33 (0)1 42 86 67 16
FAlexandre(at)artnet(dot)fr
About artnet:
With 24/7 worldwide bidding, artnet Auctions is the world's first and only online auction platform to buy and sell modern and contemporary fine art, prints, photographs, and design. artnet.com has been online since 1995 and is host to approximately 2 million visitors each month. Through its Price Database of all auction sales results and artnet Galleries of all leading art galleries worldwide, artnet is the leading online resource for the international art market.
artnet.com | artnet.de | artnet.fr
Artnet Worldwide Corporation, 61 Broadway, 23rd Floor, New York, NY 10006-2701, USA
# # #