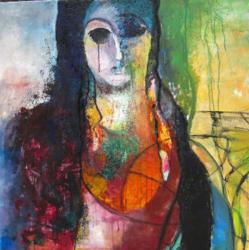 I believe painting is a meditation.
San Francisco, CA (PRWEB) March 16, 2012
Born in 1967, Persian artist Nasrin Barekat graduated from the Iranian Academic Center for Education, Culture & Research (ACECR) with a double degree in painting and photography. Famed painter Karim Nasr, her teacher and mentor with whom she studied for six years, says about her: "When Nasrin first came to my painting class, she was only keen on painting. After a short period, I found her clever, perspicacious and competent… Now here she is: known as a painter and a curator." Fascinated by photography, Nasrin never leaves home without her camera.
Nasrin Barekat started painting at a very early age. Whenever words fail her to communicate an emotion, she picks up her brush and paints her feelings on canvas. Painting is her passion and the one mode of expression she has found that allows her to share her feelings while remaining true to herself. Nasrin is drawn to women's faces; all born from her imagination, they provide an inexhaustible source of inspiration that she uses to convey a vast range of emotions.
For Nasrin, painting is a meditation, the type of meditation that involves all the particles in the body, the mind and the spirit. She believes that by listening to your inner voice, without judgment, you can leave your mind. Only then is it possible to create.
Nasrin has been involved in international artistic activities, including a global art competition called SNAC Expo which uses social networks as a communications platform. The Social Network Art Competition (SNAC) was designed to give emerging artists around the world an opportunity to show their work to the global art community. Nasrin is the executive manager of SNAC Iran 2011, the pilot edition of that competition.
Nasrin Barekat's artwork has been featured in two solo exhibits, and three group shows in Tehran. In 2010, her work started attracting international attention, and several of her paintings are now in the property of American collectors. Today, Nasrin's work generates more interest than ever. In the United States, her paintings can be seen at Art People Gallery, a premier San Francisco art gallery, where her work is on permanent exhibit. In Tehran, Nasrin's work is showcased at Haft Negah, a community of seven art galleries who came together to enhance Iranian visual arts. In September 2012, Nasrin's artwork will be part of a group exhibit at 7Samar Gallery in Tehran.
ABOUT ART PEOPLE GALLERY
Art People Gallery, a premier San Francisco art gallery, is located in the Crocker Galleria, 50 Post St., in the heart of the financial district, near Union Square's exclusive shopping area, close to the MOMA and the Jewish Museum. Art People is a full service gallery that specializes in contemporary fine art painting and sculpture by Bay Area and international artists. Art People also offers residential and corporate placement services, including art rental programs, consulting and installation.
Art People Gallery is open Mondays through Fridays 10am-6pm, and on Saturdays from 11am-5pm. For more information, contact Ali Meamar at (415) 956-3650 or at info(at)artpeople(dot)net. You can also become a follower of Art People Gallery's Facebook page.