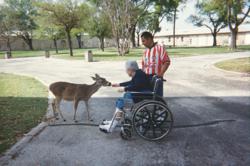 ...art is a powerful tool for people with Alzheimer's because it calms feelings of restlessness, loneliness and isolation. — Tom Elin, CEO The Alzheimer's Caregiver
San Antonio, TX (PRWEB) March 01, 2013
The Alzheimer's Caregiver suggests that caretakers consider artistic projects for their loved ones with Alzheimer's disease. The organization says art therapy offers a variety of benefits, from enhancing communication to sparking memories.
Tom Elin, CEO of The Alzheimer's Caregiver, says art is a powerful tool for people with Alzheimer's because it calms feelings of restlessness, loneliness and isolation. He recommends that caretakers explore the benefits of art therapy as a release from Alzheimer's symptoms.
Although many people with Alzheimer's gradually lose the ability to express themselves with words, they can still develop other abilities dealing with color and arrangement. This makes art a highly-valuable activity for people who are struggling with the disease.
In addition to giving Alzheimer's patients a new way to communicate, art therapy emphasizes abilities that are available and can be developed instead of focusing on those that have been lost. Elin says, "Even people with advanced Alzheimer's disease can continue to create art."
The Alzheimer's Caregiver recommends incorporating art projects into a home-care routine, while allowing the person with Alzheimer's to enjoy the process without worrying about the end result. Art activities using photographs, such as scrapbooking, can spark memories and generate a sense of well-being.
Enrolling a loved one in an art class with other people who have Alzheimer's could help to establish new friendships. Also, viewing art in a museum could be a great way to get out of the house and get some exercise. "Art Therapy and Alzheimer's fits flawlessly with what The Alzheimer's Caregiver does and is designed to do on an ongoing basis," says Elin.
About The Alzheimer's Caregiver.com:
The Alzheimer's Caregiver provides academic, scientific, and clinical research about Alzheimer's for institutional and at-home caregivers. It offers medical technology, training and materials which often allow users to keep patients at home longer than would be possible otherwise. To find out what The Alzheimer's Caregiver can do for you or a loved one, visit http://www.TheAlzheimersCaregiver.com.