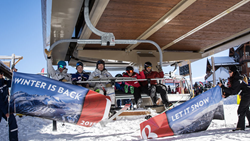 "In October alone we've already received 2.5 feet of snowfall.. That's nearly twice as much snow as we started the season with last year! And it just keeps coming."
BRECKENRIDGE, Colo. (PRWEB) November 01, 2018
It's official! The Breckenridge Ski Resort is slated to open for the 2018/2019 Ski Season on Friday, November 9, 2018! And with over 30" of snow having already fallen so far this season, many are hopeful this may be one of the snowiest Opening Days yet! So, to celebrate, the Breckenridge Ski Resort is promising to pull out all the stops with a celebration bigger and better than ever! Starting off the season in style with music, parties, competitions and more, one thing is for sure – no one kicks off a season like Breckenridge.
Although Breck's opening will come on the heels of other Summit County Ski Resorts, Arapahoe Basin and Keystone, Opening Weekend in Breckenridge is truly a one of kind, fantastic experience that brings in dozens of anxious skiers and snowboarders ready to share their passion (and get a possible Opening Day themed Epic Mix Pin) with other like-minded snow enthusiasts. Giddy with excitement to ring in the Colorado Winter with fresh tracks on freshly groomed slopes, these skiers and riders alike are eager to get their snow legs back by taking that first long downhill descent on the infamous Four O'Clock Run and remember that glorious burn we all grow so accustomed to by season's end.
"We're stoked for this season's Opening Day!" says Dave Garrett, owner of local vacation rental company Ski Country Resorts, "In October alone we've already received 2.5 feet of snowfall.. That's nearly twice as much snow as we started the season with last year! And it just keeps coming. We've got snow on the forecast for the next three days. That combined with the low, perfect temperatures for snowmaking leads us all to believe this year's Opening Weekend will be one of epic proportions." He finishes, gleaming ear to ear. "And lots of local companies are celebrating. We at Ski Country, for example, are offering an early season 20% Discount on all of our lodging in hopes of luring some of those anxious powder hounds out to help us all celebrate all of this snow!"
And lure they just might. With Breckenridge just a mere hour and a half from Denver, it's a good possibility the enticement of a quick car or bus ride to one of the best mountain towns in America for the promise of what might be an Opening Day of historic proportions could be one that the city's avid skiers and riders can't resist.
So, with the dawn of a new season brings the opportunity to relive memories of past runs with friends and family and the promise of establishing new ones in the season to come. Overall, Opening Weekend in Breck can promise one thing – a great time with great people in a great place! For a full schedule of events, Click Here.
Breckenridge's current lift ticket pre-purchase pricing runs $102 for a full-day ticket for adults between the ages of 13-64. Child (5-12) full-day window tickets are priced at $66 and senior (ages 65+) are priced at $92. Epic Passes are still available for purchase and offer an unbeatable deal for those planning to ski or ride more than 5 days throughout the Season. Not to mention, all passes offer access to additional ski resorts throughout the state of Colorado (and some even the world!).