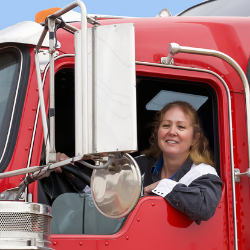 "The industry as a whole wants to become a better place for women to work."
ST. PETERSBURG, Fla. (PRWEB) August 12, 2019
Recent projections from American Trucking Association (ATA) indicate that the trucker shortage is expected to double over the next decade. Since more than 70 percent of the nation's total freight moves by truck, the impact of this shortage cannot be overstated[1]. "Long-haul trucking is the hardest hit," said John Kearney, CEO of Advanced Training Systems, a leading designer and manufacturer of virtual simulators for driver training. "To address this problem, U.S. trucking companies are widening their recruiting efforts to include a segment of the population they have long ignored—women."
ATA figures show that the female component of the U.S. trucker population has increased slowly over the last 15 years, from 4.5 percent in 2003 to roughly six percent in 2018[2].
The median annual wage for U.S. truck drivers is $44,500, according to the Bureau of Labor Statistics[3]. However, some companies are paying much more to try to fill jobs. Walmart is paying truck drivers an average of more than $87,000 annually[4].
In Kansas, Sen. Jerry Moran is crafting a bill that would promote more women in the trucking industry. The bill proposes the creation of an advisory board within the Federal Motor Carrier Safety Administration (FMCSA) to provide training, education and recruitment of female truck drivers[5].
Despite the alluring salary, women have concerns about going into the field. Being away from home for long periods of time, vehicles perceived to be uncomfortable and difficult to drive and physical safety have been obstacles to women becoming truck drivers.
The industry is seeking to address those concerns and make the environment safer and better for women, Kearney said.
Advantages to having more women in trucking may go beyond reducing the trucker shortage. It would also improve highway safety overall. A report by the American Transportation Research Institute found that women truck drivers outscore men in several important safety areas. Women are 20 percent less likely to be involved in a crash, are 45 percent less likely to participate in logbook violations and are 60 percent less likely to commit hours-of-service violations[3].
Another way companies are trying to bring more women into the industry is by offering family-friendly benefits. Prime Inc., a trucking company, offers passenger permits that allow drivers to bring family and pets along, a video system embedded in the truck for drivers to connect with their families from the road and guaranteed time off[6].
One issue that has been an obstacle is safety, but companies are addressing this with sexual harassment awareness training and self-defense classes. Women in Trucking, an organization dedicated to encouraging females to become truckers and providing resources for women on the road, has offered free self-defense courses in light of the #MeToo movement last March[7].
"The industry as a whole wants to become a better place for women to work," Kearney said. "The emphasis on simulator training bears out what we've been saying for a long time: it should be mandatory for the whole industry, just as it is for pilots. Another big factor is automatic transmissions, which is making it an easier job for everybody. There's a lot more to do, but we are committed to making trucking a profession a woman can successfully start with and stay with."
About Advanced Training Systems LLC:
Advanced Training Systems (ATS) is a technology and engineering firm that has revolutionized the design and manufacture of high-tech simulator systems to improve training for operators of all types of motor-powered vehicles. ATS, the holder of multiple patents in its field, is dedicated to providing cutting-edge adaptive training at an affordable cost to all involved in the transportation industry, resulting in more qualified drivers/operators and safer streets. For more information, visit http://www.atstrainingsystems.com
1.Cassidy, William B., "US truckload carriers still short drivers: ATA," Journal of Commerce, July 24, 2019.
2.Connley, Courtney, "Just 6 percent of America's truck drivers are women—here's what it's like," CNBC, June 18, 2018.
3."Occupational Employment Statistics." http://www.bls.gov, 29 Mar. 2019
4.Kerenzulli, Kerri. "Walmart Is Hiring Hundreds of Truck Drivers and Paying Them Close to $90,000 a Year." CNBC, CNBC, 29 Jan. 2019
5.Gallagher, John. "U.S. Lawmaker Wants to Break Barriers to Women Truckers." Freightwaves.com, 11 Aug. 2019,
6.Drive For Prime. "For Trucker Families: Being A Truck Driver With A Family." Drive For Prime, Drive For Prime, 6 Apr. 2018
7.Everett, Brynn. "Women In Trucking Association Partners with Survive Institute to Offer Free 90-Minute Self-Defense Course." Home, 12 Mar. 2018