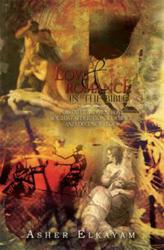 REISTERSTOWN, Md. (PRWEB) April 08, 2013
How women changed the world in Biblical times has always been a contentious subject of discussion. Although there are various materials to offer discussions on this significant subject, people are always searching for simple, easy-to-understand writings that will lead them to wisdom and enlightenment. Through intensive and independent research, author Asher Elkayam discovers cold facts presented by the Bible scribes in the Tannakh relating to this subject—and he knows that people need only truth. Without prejudice to one religion or another, his new book Love and Romance in the Bible depicts besides the beauty of love and romance, other passions such as incest, rape and thirst for power. The concept of love is perceived through three different perspectives: pure love, love for procreation sake and finally 'fake' love intended to achieve evil.
This book is a comprehensive study where Elkayam examines the role of certain biblical women and how women changed the world through sexual appeal mixed with wisdom. The Bible describes both the good and the evil in women. Certain biblical women described in this project influenced the course of history. Other biblical women took the responsibility to prepare future leaders who were crucial in their respective times. Others compromised entire kingdoms through their attraction. Some women such as Tamar and Ruth are claimed by several religions and faiths. Tamar, for example, became the real mother of Judaism when the tribe of Judah was almost extinct.
Love And Romance in The Bible examines how a handful of biblical women became the mothers of many nations and how they became so powerful. Sarah was the real mother of Islam and Judaism. Rebecca was responsible for the upcoming foundation of twelve tribes of the Israelites (by saving the life of Jacob).
Elkayam also looks into how sexual attraction and sexual appeal have altered the course of history, how sexual temptations changed and perverted people, how sex, envy, jealousy, lust, and love have never changed in history, and how lust and idolatry have been tied together. Jezebel, Athaliah and Delilah were bad examples. Queen Esther, Ruth, Deborah and Hannah were good examples.
Elkayam utilizes his knowledge and dedication to research and come up with this revealing book that will surely appeal to those who are seeking for truth and wisdom. He has gone through every Hebrew word in the Tannakh and has selectively singled out those paragraphs, phrases and words which best describe this project—translating them to simple English to be more suitable and understandable in modern times. Overall, he believes that the Bible remains a source of inspiration to those who believe in love as a powerful tool for creativity, morality, strength, and hope.
Mr. Elkayam's previously written books on the Bible are highly praised by Dr Adam Ackerman, one of Israel Best Sellers. He wrote: "As an author of best-selling books about the history of the Jewish nation and about Jerusalem, and being also a good friend of Asher Elkayam for many years, I appreciate his ability to analyze the common and different factors in all the three main religions. He shows deep knowledge of the Bible, the New Testament and of the Qur'an. His books promote the tolerant people of all the faiths and strengthen the belief to advance together to real peace in the world. His books should be used by thousands of readers and translated into many languages."
For more information on this book, interested parties may log on to http://www.Xlibris.com. And http://www.Asher-Elkayam.com
About the Author
Asher Elkayam was born in Morocco where he spent his childhood and where he studied French, Hebrew, Aramaic, Arabic and English. When he moved to Israel, he was exposed to Middle Eastern and Hebrew cultures. His interest in Hebrew studies allowed him to study the science of morphology at the Hebrew University of Jerusalem. He has been most fascinated with Monotheism and how it originated and spread to become the heritage of Jews, Christians and Muslims. The striking similarities between Judeo-Christian religions and Islam became the object of a lifelong project. When he traveled to France he continued his studies at the prestigious Sorbonne in Paris and obtained a diploma at the Political Science Institute (Strasbourg, France).In Maryland Mr. Elkayam served as language educator (Hebrew and French). He obtained his masters degree in secondary education from Towson State University. As a professional, Elkayam served the hard of hearing people in Maryland for 36 years. He obtained, among various studies in hearing science, a diploma from the American Institute of Audioprosthology. Elkayam is an author of six books. He previously published "The Bible, The Power of The Word" in 2008, "The Qur'An And Biblical Origins" (2009) and "One Family, Four Cultures, Four Continents" (2009). His last book on world religions (published by Lulu Publishing in 2011) was titled "Whose God is it Anyway?" Its aim was to promote peace between nations and religions through mutual respect, tolerance and acceptance. To learn more about those fascinating books, everyone can visit Elkayam's website at
http://www.asher-elkayam.com, http://www.amazon.com, http://www.xlibris.com and http://www.lulu.com
Love and Romance in the Bible * by Asher Elkayam
Powerful Women, Love, Sex, Lust, Seduction, Courage, and Decency (Too)
Publication Date: February 14, 2013
Trade Paperback; $19.99; 276 pages; 978-1-4797-3206-7
Trade Hardback; $29.99; 276 pages; 978-1-4797-3207-4
eBook; $4.99; 978-1-4797-3208-1
To request a complimentary paperback review copy, contact the publisher at (888) 795-4274 x. 7879. To purchase copies of the book for resale, please fax Xlibris at (610) 915-0294 or call (888) 795-4274 x. 7879.