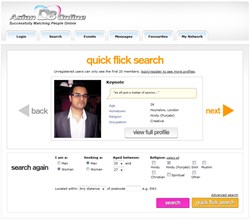 London (PRWEB UK) 10 June 2009
AsianD8.com, one of the fastest growing Asian dating websites, has now made finding love even quicker with its new Quick Flick service. Quick Flick is an innovative fast paced tool designed for the user with limited time. It allows you to search thousands of profiles with pictures at the simple click of a button.
The Quick Flick tool allows the user to navigate through thousands of profiles by either a simple search of age, religion and distance or a more advanced search were the user can drill down to anything from personality type, occupation to dress sense. Interestingly the tool itself has inbuilt intelligent software that remembers previous selections and captures individual users personal behaviour, allowing future quick flick searches to be tailored to the users particular requirements and making the search even quicker.
AsianD8 which is marketed towards today's second and third generation Sikh, Hindu and Muslim communities understand the commitment and demands of modern life and appreciate that finding a partner is difficult for the individual with limited time. It has wanted to create a tool that would allow a user to meet someone quickly but not compromise on usability or the fun factor. AsianD8 also seems aware that one of the biggest pitfalls of modern dating sites is the limited availability of profiles with pictures. The quick flick feature incentives users to upload their pictures ensuring that there profile will receive maximum exposure compared to their non-picture profile counterpart. Primary reports suggest that quick flick has increased photo uploads and also increased member communication throughout the site and improved the user experience.
Quick Flick is definitely a modern, fresh tool for today's generation, which only enhances the features of a modern Asian dating website.
AsianD8 launched in November 2008 off the back of their successful singles events company AsianD8events.com which has been running since 2003. Just over six months on AsianD8 is one of the UK's fastest growing online Asian dating sites for UK based Asians.