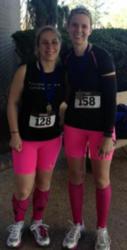 "Both Alyssa and I put in better times than our back-to-back marathons last October!"
New Haven, CT (PRWEB) March 12, 2013
Aspaeris, a new provider of performance-enhancing, injury-prevention compression sportswear for female athletes, announces the award of Aspaeris Pivot Shorts™ Gen2 to each of the top three female finishers in Chesapeake Bay Running Club's 2013 Lower Potomac Marathon. The marathon was held on Sunday, March 10, in Piney Point, Maryland. Aspaeris Marketing Director, Kari Ricigliano and Pivot Short user Alyssa Lindsey also teamed up again to run the marathon in their Aspaeris Pink Gen2 shorts.
The three winners of the giveaway are Katie Ogden of Owings, Maryland who ran in 3:01:42; Charlene Smith of Mount Joy, Pennsylvania who ran in 3:15:03; and Alicia Eno of Marion, Arkansas who ran in 3:18:10. All three women will be receiving a free pair of Aspaeris Pivot Shorts™ Gen2. Kari Ricigliano, the Marketing Director for Aspaeris, and Pivot Short user Alyssa Lindsey of Baltimore finished in 19th and 18th place respectively in the Sunday marathon. Ricigliano ran the marathon in 3:55:00, which is three minutes faster than her previous personal record at the 2011 Hartford Marathon.
"What a perfect race day along a scenic course," Kari Ricigliano commented on Sunday. "Both Alyssa and I put in better times than our back-to-back marathons last October! I really look forward to getting in touch with the top three girls from this race."
Additionally, all female contestants in the marathon received a discount coupon for the newly released shorts at 40% off the retail price.
About Aspaeris
Founded by Samara Innovations, LLC in 2010, Aspaeris is a female-centric sportswear company that strives to protect athletes from injury and enhance their performance with advanced compression apparel. The Aspaeris Pivot Short (APS™) was created to help prevent non-impact ACL injuries in high-performance female athletes. APS™ is a unique compression short that has two layers. The outer short is a high performance compression short designed to support muscles. The inner short uses patent-pending technology called Dual Sensory Compression Bands™ to help guide the athlete into proper position while she pivots and runs. APS™ is the only compression short designed specifically for females that improves performance, speeds recovery, and prevents injuries. In a recent survey, 80% of Pivot Short users reported a performance increase and 62% reported significantly faster recovery time when wearing the shorts after long runs. APS™ is being worn by thousands of new users and has been tested by over 100 premier sports medicine professionals and athletic trainers. APS™ was worn by the fastest all-female Ultra team in the Ragnar Relay SoCal 2012 and is a proud sponsor of the Hartford Marathon Foundation. Athletes can also engage Aspaeris via Facebook and Twitter.
To learn more about APS™, visit http://www.aspaerispivotshorts.com
To learn more about the Chesapeake Bay Running Club, visit: http://www.cbrcmd.org
# # #