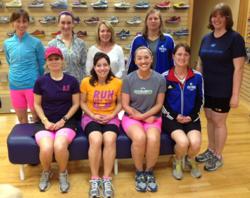 New Haven, CT (PRWEB) April 23, 2013
Aspaeris, a new provider of performance-enhancing, injury-prevention compression sportswear for female athletes, announces the sponsorship of the CT WaveRunnersTeam in the Ragnar Relay Cape Cod on May 3-4, 2013. Colleen Kelly Alexander, an Aspaeris-sponsored athlete, will join her teammates for the 200-mile, overnight relay race which begins in Hull, MA and finishes in Provincetown. All ten female runners on the team have trained in and will race in Aspaeris Pivot Shorts™ Gen2.
When Colleen was contacted regarding her team, she humbly replied, "I'm not a team captain. Just thankful to run with the team and try to help the team get donations of Aspaeris Pivot Shorts!"
The runners all come from Connecticut and are members of a recreational running and training group called CT WaveRunners. Teammate Christine Kopcha, who recently completed the Boston Marathon just a few minutes before tragedy struck the finish line, founded the CT WaveRunners group. Her goal was to bring friends together to run the roads and trails of Connecticut's shoreline regardless of ability and for the enjoyment of the sport of running. CT WaveRunners.org now has a recognized USATF Team and even offers recipes on its website. The teammates have been training together and like to meet at their favorite local SoundRunner store in Old Saybrook, where Christine is the manager. Colleen Kelly Alexander works at the Branford location where Aspaeris Pivot Shorts™ are sold. SoundRunner was recently purchased by Marathon Sports of Boston.
Running a Ragnar Relay is a huge accomplishment for any athlete, but for this team it will be extraordinary. Colleen, a competitive cyclist and marathoner who suffered a traumatic cycling accident only 18 months ago, will run three legs of the relay. This race will be proof of what perseverance, good training, a supportive running group and the right compression shorts can accomplish.
About Aspaeris
Founded by Samara Innovations, LLC in 2010, Aspaeris is a female-centric sportswear company that strives to protect athletes from injury and enhance their performance with advanced compression apparel. The Aspaeris Pivot Short (APS™) is a unique, two-layer compression short that uses patent-pending technology called Dual Sensory Compression Bands™ to help guide the athlete into proper position while she pivots and runs. APS™ is the only compression short designed specifically for females that improves performance, speeds recovery, and prevents injuries. In a recent survey, 80% of Pivot Short users reported a performance increase and 62% reported significantly faster recovery time when wearing the shorts after long runs. APS™ is being worn by thousands of new users and has been tested by over 100 premier sports medicine professionals and athletic trainers. APS™ was worn by the fastest all-female Ultra team in the Ragnar Relay SoCal 2012 and is a proud sponsor of the Hartford Marathon Foundation. Athletes can also engage Aspaeris via Facebook and Twitter. To learn more about APS™, visit AspaerisPivotShorts.com
To learn more about Ragnar Relay Cape Cod, visit http://ragnarrelay.com/race/capecod
To learn more about CT Wave Runners, visit http://www.ctwaverunners.org
To learn more about SoundRunner, visit http://www.soundrunner.net