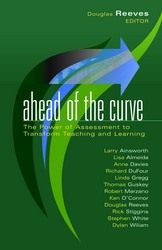 the undefined space where leaders venture to impact change—it is the place where transformation begins.
Bloomington, IN (PRWEB) September 27, 2007
Educational publishing company Solution Tree released a new anthology, Ahead of the Curve: The Power of Assessment to Transform Teaching and Learning, on Wednesday, September 26. With contributions from leading assessment experts, this tome contains a collection of experiences, recommendations, and strategies focused on shattering antiquated ideas of assessment practices.
Douglas Reeves, Rick Stiggins, Anne Davies, Richard DuFour, Thomas Guskey, Robert Marzano, and Dylan Wiliam are among the international authors included in Ahead of the Curve. The anthology addresses numerous challenges educators face, such as applying assessments to English language learners and special needs students. While the authors each present a unique perspective, they offer a united front for the need to use assessment to shatter archaic evaluations that trap students in the bell curve.
"The essential mission of this book (is) a new vision of achievement, assessment, and equity," writes Reeves. "The fundamental premise of this new vision is a rejection of the determinism inherent in the bell curve and the embrace of the essential truth that teachers and school leaders make a difference. … Teaching is not merely the act of transmitting knowledge, but an inherently collaborative, interactive, and relationship-based enterprise."
Edited by Douglas Reeves, Ahead of the Curve is the second anthology in the Solution Tree Leading Edge series. The company describes "the leading edge" as "the undefined space where leaders venture to impact change—it is the place where transformation begins." The inaugural book of the series, On Common Ground: The Power of Professional Learning Communities, edited by Richard DuFour, Robert Eaker, and Rebecca DuFour, sets a standard Solution Tree plans to uphold in each ensuing installment. The Leading Edge series unites education authorities from around the globe and asks them to confront the important issues that affect teachers and administrators.
About Solution Tree
Solution Tree is a leading provider of educational strategies and tools that improve staff and student performance. For 20 years, Solution Tree resources have helped K–12 teachers and administrators create schools where all children succeed. Solution Tree products and services include national and regional conferences that bring leading-edge theories and best practices to educational professionals; innovative publishing of research-based books, videos, and study guides; and inspired, customized professional development for schools and districts.
Contact:
Kelly Rockhill
Solution Tree
800-733-6786 X234
###