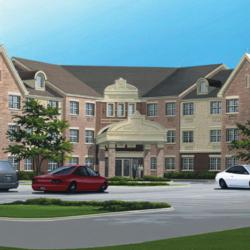 St. Anthony will provide older adults with a wonderful alternative to a nursing home or to struggling alone at home.
Bradley, IL (PRWEB) March 05, 2013
BMA Management, Ltd., the largest provider of assisted living in Illinois, has opened a Sales Office for St. Anthony of Lansing, an affordable assisted living community under development in Lansing, Illinois.
The community will house 125 apartments for low-income seniors who need some help to maintain their independence and is being constructed on more than four acres of property on the east side of Chicago Ave., north of 178th St., in Lansing.
With the opening of the Sales Office, reservations for the apartments are now being accepted.
The Sales Office is located on property adjacent to the construction site.
"We invite you to visit the office to learn about the apartments and the wonderful assisted living lifestyle that will be available," says Laurena Carter, Administrator for St. Anthony. "We are on-schedule to open for occupancy this summer."
To arrange a visit to the Sales Office or to obtain more information, call 708-474-6100.
"St. Anthony will provide older adults with a wonderful alternative to a nursing home or to struggling alone at home," says Carter, who has more than 10 years of experience in health care and senior services. Her most recent experience includes serving as Administrator of the Concord Nursing and Rehabilitation Center in Oak Lawn, Illinois, and as Senior Director of the Senior Services Division for Bethel New Life in Chicago.
"Residents will benefit from living in a residential apartment-home environment with the availability of personal assistance and help with medications, she says."
Each of the 125 private one-bedroom apartments at St. Anthony will feature a kitchenette, spacious bathroom with shower and grab bars, and an emergency alert system.
A variety of community areas also will be available, including an activity room, café, convenience store, dining rooms, exercise room, library, multi-purpose room and theatre.
Certified nursing assistants will be on-duty 24 hours a day, seven days a week. Three meals a day, housekeeping and laundry will be among the included services.
"Residents also will benefit from all of the opportunities that will be available to socialize with friends and neighbors and to participate in social activities and programs no matter what the weather," says Carter.
The $27.9 million development will be fully certified to operate through the Illinois Supportive Living program, which will enable St. Anthony to serve those on Medicaid.
BMA Management, the company that will manage the St. Anthony affordable assisted living community is based in Bradley, Illinois. The company operates 36 senior living communities, which house more than 3,300 homes and apartments.
"Our focus is on providing residents with the love, compassion and dignity that they deserve in addition to the help and assistance that they need," says Rod Burkett, President and CEO of BMA. "Our emphasis is on helping each resident to achieve and maintain as much independence as possible for as long as possible.
The communities managed by BMA include the Heritage Woods affordable assisted living communities in Chicago, Manteno, Bolingbrook, Batavia, Plainfield and Yorkville, Illinois.
BMA also manages Churchview Supportive Living in Chicago.
For more information on BMA Management, Ltd. and the managed senior communities, please visit http://www.bma-mgmt.com.