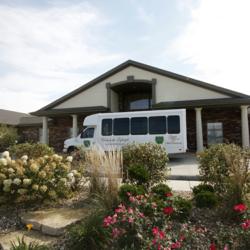 Bradley, Illinois (PRWEB) March 15, 2013
Bridle Brook of Mahomet is hosting an informational program on Minimally Invasive Knee Surgery at 5:30 p.m. on Tuesday, March 19.
The BMA assisted living and memory care community is located at 1505 Patton Dr. in Mahomet, Illinois.
Dr. Daniel Dethmers of the Christie Clinic in Champaign will be speaking.
"We invite you to attend this Q & A with a Medical Provider program," says Stephanie Holderfield, Director of Marketing with Bridle Brook.
The program is open to the public. There is no charge to attend.
For more information, call 217-586-3200.
Bridle Brook is operated by BMA Management, Ltd., the largest provider of affordable assisted living in Illinois.
"Our focus is to provide older adults with the love, compassion and dignity that they deserve in addition to the care and assistance that they need," says Rod Burkett, President and CEO of BMA Management. "Our emphasis is on helping each resident to achieve and maintain as much independence as possible for as long as possible."
Based in Bradley, Illinois, BMA operates 36 senior living communities, housing more than 3,300 homes and apartments.
Among the senior living communities managed by BMA are the Prairie Winds affordable assisted living community in Urbana, Illinois; and Bowman Estates affordable assisted living community in Danville, Illinois; the Eagle Ridge affordable assisted living community in Decatur, Illinois; and the Heritage Woods affordable assisted living communities in Charleston and Watseka, Illinois.
For more information on BMA Management, Ltd. and the managed senior communities, please visit http://www.bma-mgmt.com