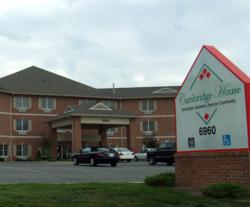 Join us (at Cambridge House of Maryville) for an afternoon of magic and wonder
Bradley, IL (PRWEB) November 21, 2012
Cambridge House of Maryville, a BMA affordable assisted living community in the St. Louis Metro East area, is hosting the Hampels Magic Show at 2:30 p.m. on Thursday, Nov. 29.
The community, which is located at 6960 State Rte. 162 in Maryville, Illinois, provides older adults of all incomes with the opportunity to live in a residential apartment-home environment and receive personal assistance and help with medications. "Join us for an afternoon of magic and wonder," says Rosa Lee Stufflebean, Resident Services Coordinator for Cambridge House of Maryville.
The show is open to the public and will feature three generations of Hampel family magicians. The Hampel family tradition of magic began in 1962 when Dennis Hampel became entralled by magician Mark Wilson, who appeared on the nationally televised show "Magic Land of Alakazam." Dennis has performed throughout the United States and internationally and has served as the magician at Six Flags over Mid-America. For more information about the magic show or Cambridge House of Maryville, call 618-288-2211 for more information. Cambridge House of Maryville is one of three Cambridge House affordable assisted living communities in the Metro East area.
The other Cambridge House communities are located in O'Fallon, Illinois, and Swansea, Illinois.
All three Cambridge House communities are fully certified to operate through the Illinois Supportive Living program and managed by BMA Management, Ltd., the largest provider of assisted living in Illinois.
"Our focus is on providing older adults with the love, compassion and dignity that they deserve in addition to the care and assistance that they need," says Rod Burkett, President and Chief Executive Officer of BMA. "Our emphasis is on helping each resident achieve and maintain as much independence as possible for as long as possible."
Residents of the Cambridge House communities live in private apartments that feature a kitchenette, spacious bathroom with shower and grab bars, and an emergency alert system.
Certified nursing assistants are on-duty 24 hours a day, seven days a week. Meals, housekeeping and laundry are among the included services.
"Affordable assisted living communities such as Cambridge House provide a wonderful alternative to a nursing home or struggling alone at home," says Burkett.
For more information on BMA Management, Ltd. and the managed senior communities, please visit http://www.bma-mgmt.com