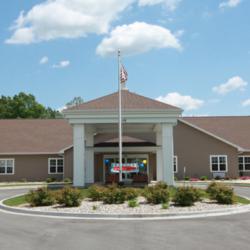 We will be serving fish, fried potatoes, hush puppies, cole slaw and dessert.
Bradley, Illinois (PRWEB) March 08, 2013
Heritage Woods of McLeansboro, a BMA affordable assisted living community, is hosting a St. Patrick's Fish Fry to benefit Relay for Life from 11 a.m. to 1 p.m. on Friday, March 15.
The community, which is located at 605 S. Marshall in McLeansboro, Illinois, serves older adults of all incomes who need some help to maintain their independence.
"We will be serving fish, fried potatoes, hush puppies, cole slaw and dessert," says Kendra Millenbine, Administrator of Heritage Woods.
The cost for each meal is $6, with proceeds benefitting Relay for Life. Dine-in and carry-out options will be available.
For more information about the Fish Fry or Heritage Woods of McLeansboro, call 618-643-2908.
Heritage Woods of McLeansboro is the only senior living community in Hamilton County, Illinois, that is certified to operate through the Illinois Support Living program.
"This enables us to serve adults 65 and older of all incomes, including those of Medicaid," says Millenbine.
The community recently was honored with a 2012 Giving Back award for supporting local charitable causes such as Relay for Life.
"We provide older adults with a wonderful alternative to a nursing home or to struggling alone at home," says Millenbine. "Residents benefits from the opportunity living in a residential apartment-home environment and receiving personal assistance and help with medications."
Each of the private studio and one-bedroom apartments feature a kitchenette, spacious bathroom with shower and grab bars, and an emergency alert system.
Certified nursing assistants are on-duty 24 hours a day, seven days a week. All three meals each day, housekeeping and laundry are among the included services.
"Residents also benefit from all of the opportunities that are available to socialize with friends and neighbors and to participate in a variety of social events and activities," says Millenbine.
The community is managed by BMA Management, Ltd., the largest provider of assisted living in Illinois.
Based in Bradley, Illinois, BMA operates 36 senior living communities, housing more than 3,300 homes and apartments.
"Our focus is on providing older adults with the love, compassion and dignity that they deserve in addition to the help and assistance that they need," says Rod Burkett, President and CEO of BMA.
The communities managed by BMA include the Heritage Woods affordable assisted living communities in Benton, Flora and Mt. Vernon, Illinois; the Prairie Living affordable assisted living community in Carbondale, Illinois; and the Cambridge House affordable assisted living communities in the St. Louis Metro East area.
BMA also manages Heritage Woods of Centralia. The community in Centralia, Illinois features senior living apartments, affordable assisted living apartments, and rental homes for low-income adults 55 and older.
For more information on BMA Management, Ltd. and the managed senior communities, please visit http://www.bma-mgmt.com